The Atheer Front Line Worker Platform Iris Release Is now available.
This latest update to the Atheer Front Line Worker Platform introduces many new capabilities designed to improve user experience, enhance AiRForm authoring, and expand our API capabilities.
We invite you to schedule a demo with your Customer Success Manager or Account Executive to learn more about how the Iris release can help you with your most important work initiatives. Please remember that you have access to all of these amazing features of the platform as part of your subscription - we don't want you to miss out.

Please read on for details of the Iris release!


---

ENTERPRISE READINESS
In our continuing effort to support our enterprise customers, we have added some great new features and functionalities.
Introducing AiRInsights*
Atheer now supports an advanced reporting and insights feature called AiRInsights. This feature enables administrators to create and export advanced and detailed reports on your use of the Atheer platform. AiRInsights allows customers slice and dice data in real-time giving them unprecedented visibility into their service operations
Once activated*, customers will be able to build custom report dashboards that present detailed data on Jobs and their execution.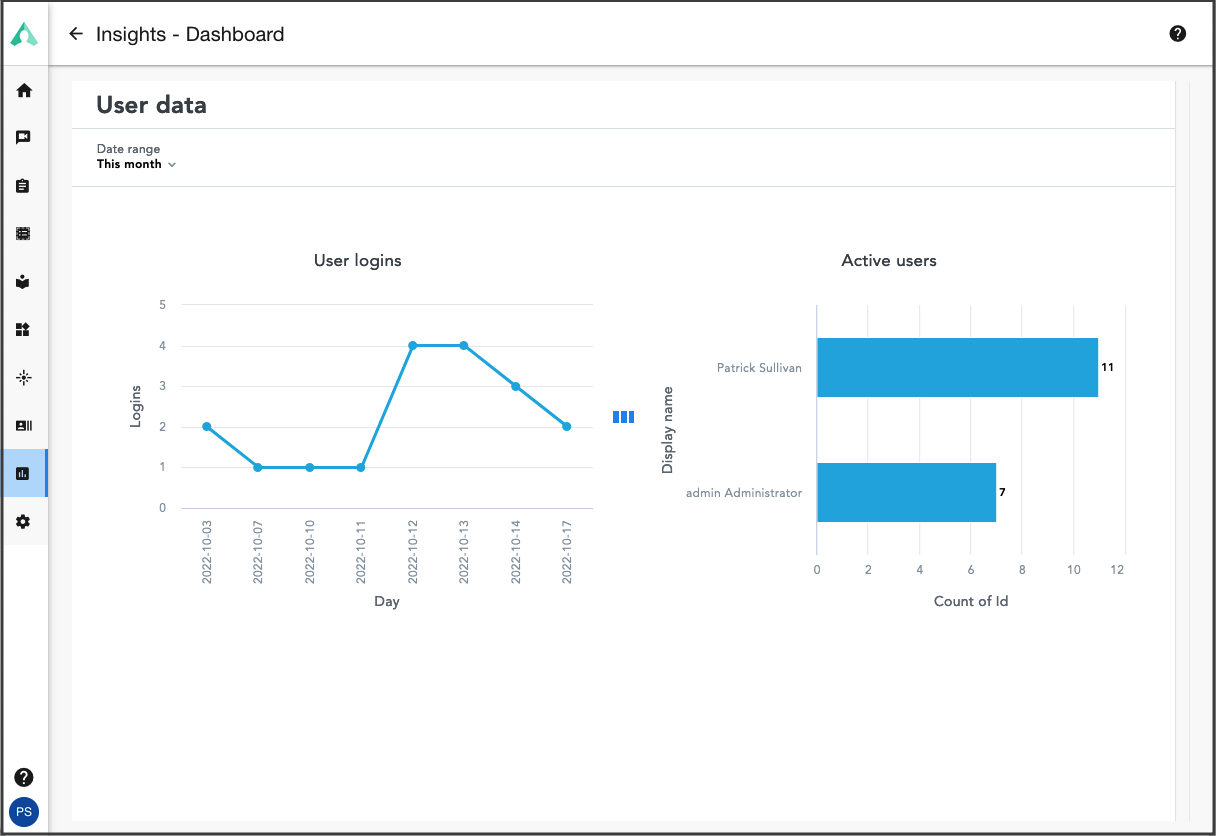 These reports can provide valuable insights up to three levels deep (i.e., completed Jobs, by team, by AiRForm). The dashboards can be modified to suit the customers' needs, or the customers can even build their own dashboards.
*AiRInsights is available for a special starting price for existing customers. For arranging a demo, and to start an evaluation, please contact your Customer Success Manager.
Configure your Lens home screen
Our customers can now configure the Atheer Lens home screen for mobile devices to present the most important features and actions of the platform. These features and actions can be placed on the home screen in relevant context with content and digitized work instructions.
The home screen tiles can be configured to be:
Topic
Content
AiRForm
Job Board
External URL
Standard actions (e.g., start AiRSession)
Custom group of any of the above
Simply have this feature flag switch turned on and drop in a configuration file, and all of the Atheer Lens home screens on mobile devices will present the new configuration that will be configured to your specific needs.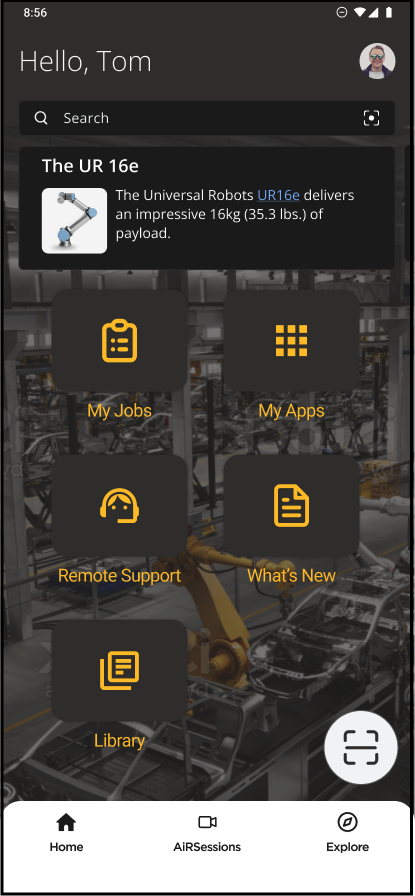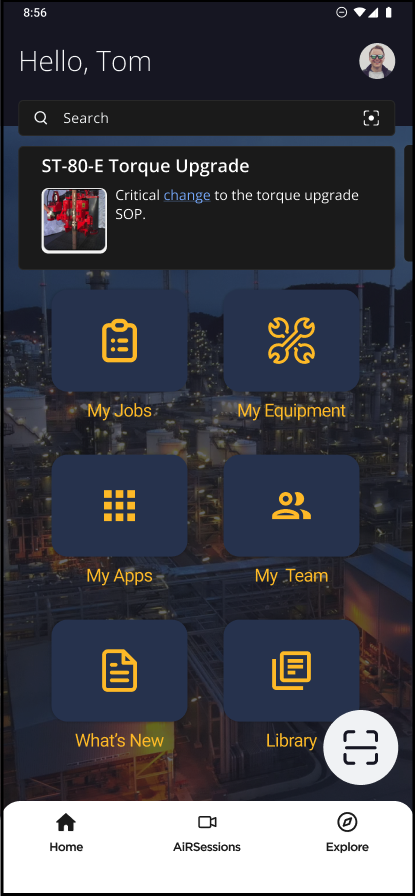 ---
ADVANCED AIRFORM CAPABILITIES
Atheer continues to grow our Atheer AiRForm capabilities in order to provide the best and most effective digital work instructions to our customers. Take a look at these new features and enhancements from the Iris release.


Enable file Attachments as a Responses in AiRForms
We've created a new response that allows users on Atheer Studio and Atheer Lens for mobile devices to attach physical files from their local system or device.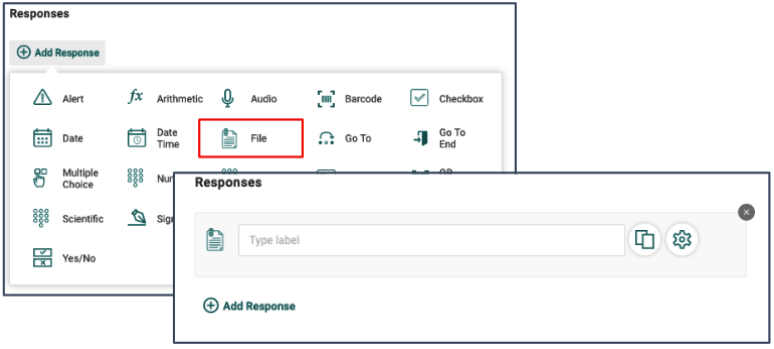 Simply add this response to your AiRForms, and your AiRForms, and your front line workers will be able to reach into their local systems or mobile devices to grab files and add them to the Job.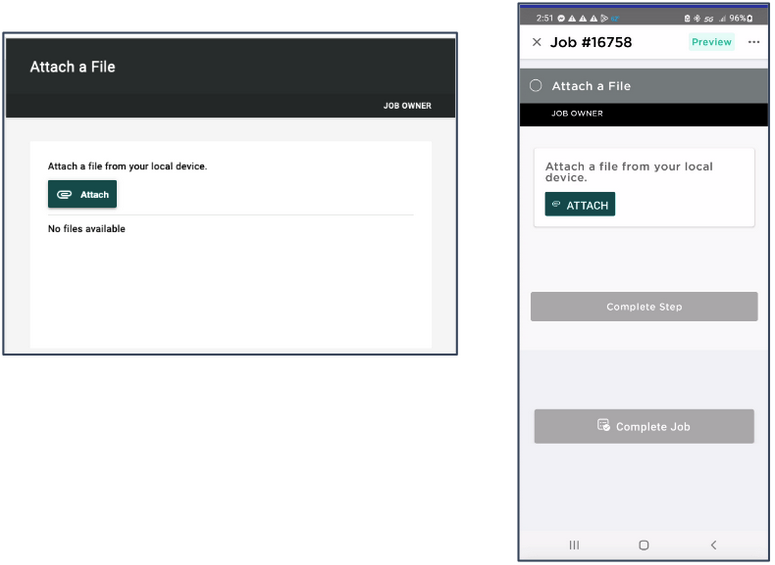 They simply click on the ATTACH button and browse through their files to select one.
This is an especially important feature for those inspection digitized work instructions where you want to upload log files, engineering notes, invoices, etc. to the Job, so all the relevant information is within Atheer, so you won't have to go to other systems to get additional information or documentation.
Speed up AiRForm authoring with the new copy/paste (Ctrl+C - Ctrl+V) feature
While creating those digital work instructions, Atheer now supports the copy/past (Ctrl+C - Ctrl+V) function for images when adding images to the headers of AiRForm steps.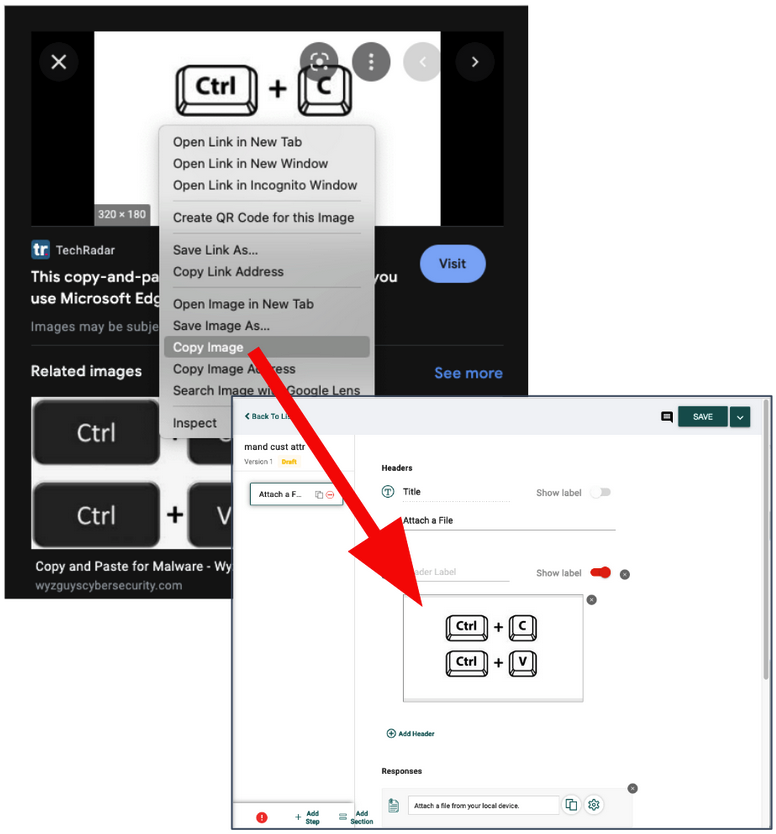 Your AiRForm authors will no longer need to save all the images they want to use to their local system and then upload them into Atheer. Now, they can simply copy the images and then directly paste them into the AiRForm response headers. This is a real time saver and streamlines the process of authoring your digitized work instructions.
Successfully preview complicated AiRForms
We've made several improvements to the preview function in AiRForm authoring, but most notably is support for previewing AiRForms with multiple Job Role assignments.

Prior to now, when you were previewing an AiRForm that had different Job roles assigned to different steps, as soon as you got to a role handoff, the preview function would stop. Now, you can go all the way through the preview regardless of how many Job Roles there are and where they are in the process

Execute Jobs directly from the Job Details page in Studio
Jobs can now be executed directly from the Job details page.
In addition to executing Jobs from the Job board, users can now execute Jobs directly from the Job details page, so if they are looking up the details on a Job, they can directly execute that Job without having to back out to the Job board.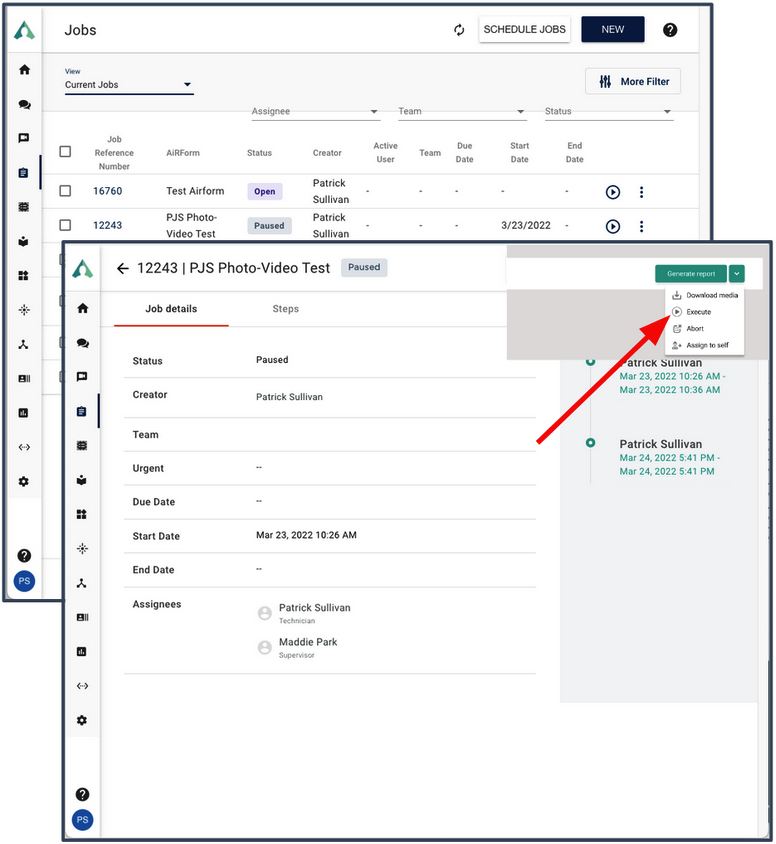 View and configure the permissions for the "Job Owner" role
Job roles are now being managed for the AiRForms > Settings page.
When no custom Job Roles are specified in an AiRForm, the default "Job Owner" role is used. And now, the permissions for the Job Owner role can be configured.
Go to AiRForms > Settings > Job Roles > Job Owner and choose to activate or deactivate the available permissions by checking the appropriate check boxes.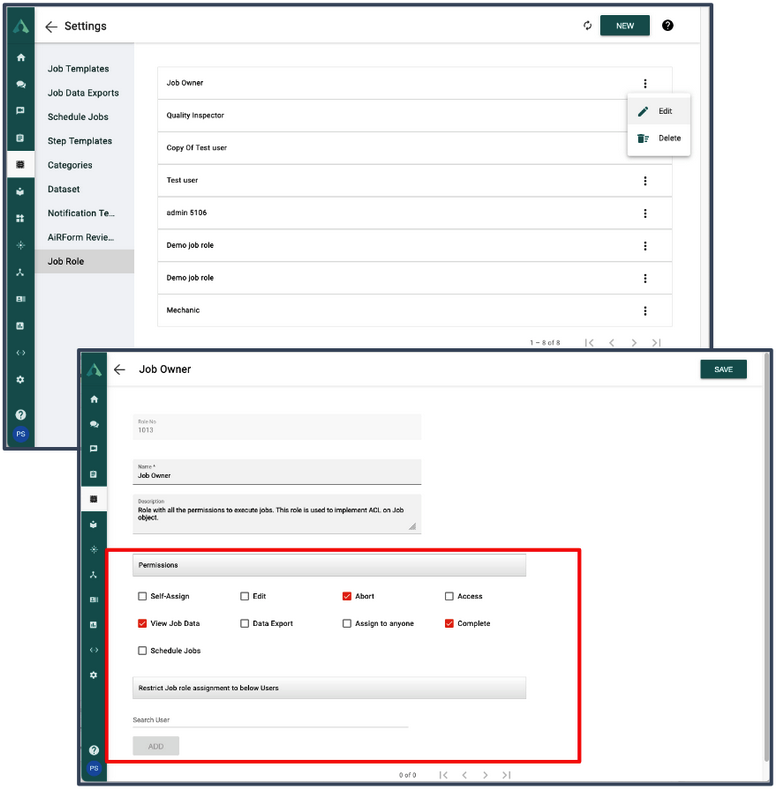 ---
USER EXPERIENCE, USABILITY, AND PRODUCTIVITY IMPROVEMENTS
We are continuously improving the Atheer platform based on our product roadmap and customer/partner feedback. Take a look at these new features and functionalities that are now available with the Iris release of Atheer.
View images captured and annotations saved in real time during AiRSessions
All the participants and host of an AiRSession can see all the images captured, and annotations saved, by any themselves or other members of the AiRSession while the session is still in progress.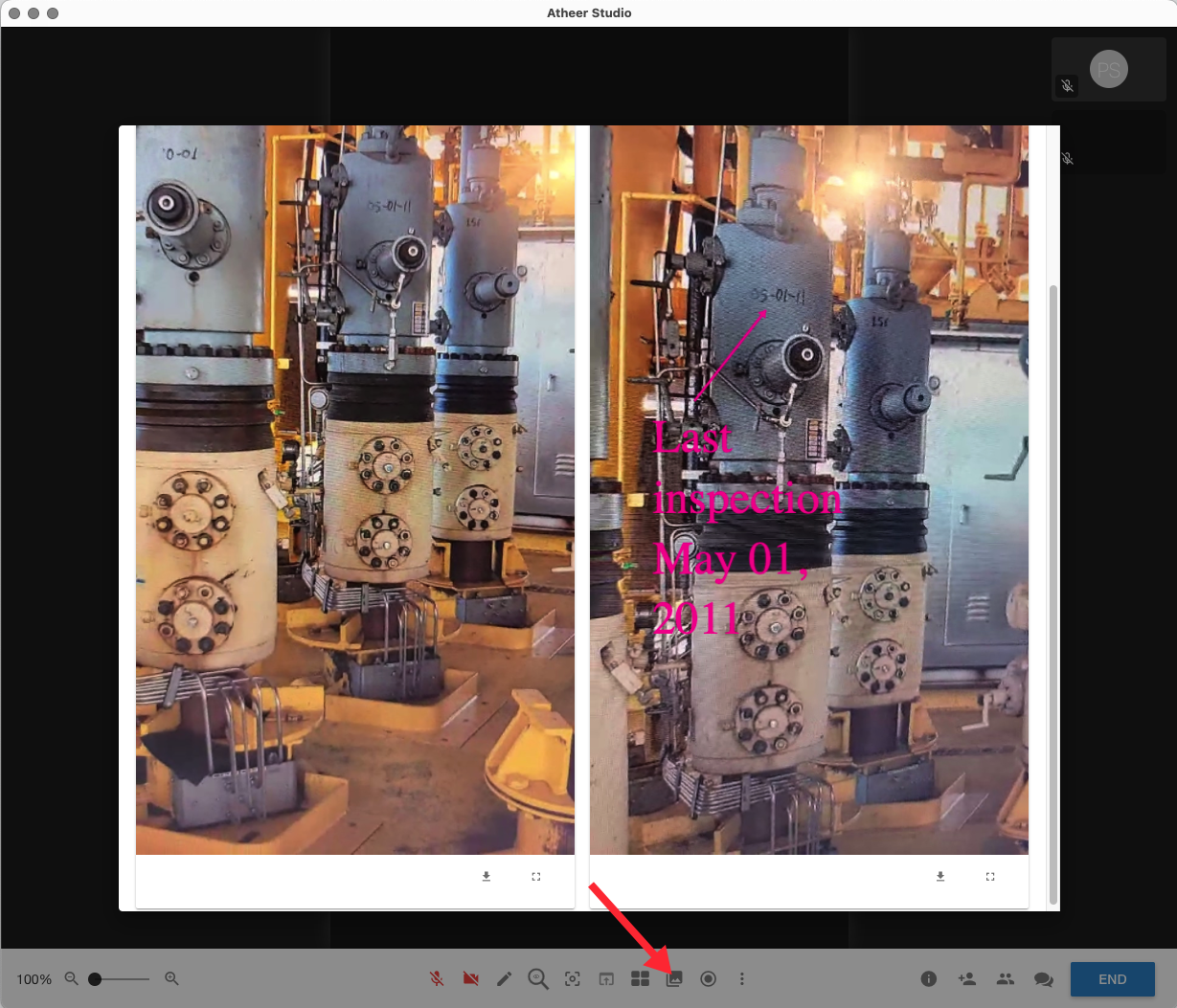 This gives all AiRSession participants direct access to the current AiRSession's captured images and saved annotations, so the attendees can go back and reference, view, and download them without ending the AiRSession.
Take advantage of the new remote control support available now in AiRSessions.
Iris lets equipment manufacturers troubleshoot and diagnose problems with the ability to view the hardware and diagnostic control software on a single platform with Atheer's new Remote Desktop control feature.
Experts can now (with permission) see or remotely control the entire computer desktops of AiRSession attendees who are joined through the Atheer Studio app. This is especially important for experts who need to see the diagnostic software on the technician's desktop as well as the video feed from their device to give guidance during diagnoses and repairs.
You're one step away from actually being there.
Understand exactly what every feature flag is for and the impact of activating or deactivating them
We've added feature flag line descriptions that enable additional information to be displayed regarding the functionality of the feature flags and what effect enabling/disabling the feature flags has on the workspace.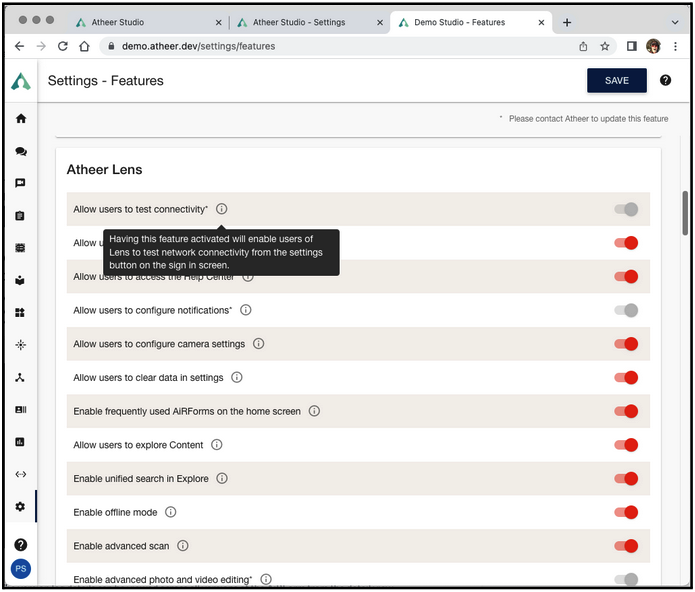 Customers can now get a deeper understanding of what each of the feature flags does as they make their decision on what features to activate and deactivate for their workspace.
Use your external IDs on Content for barcode and text scanning
An External ID can now be specified on individual pieces of Content.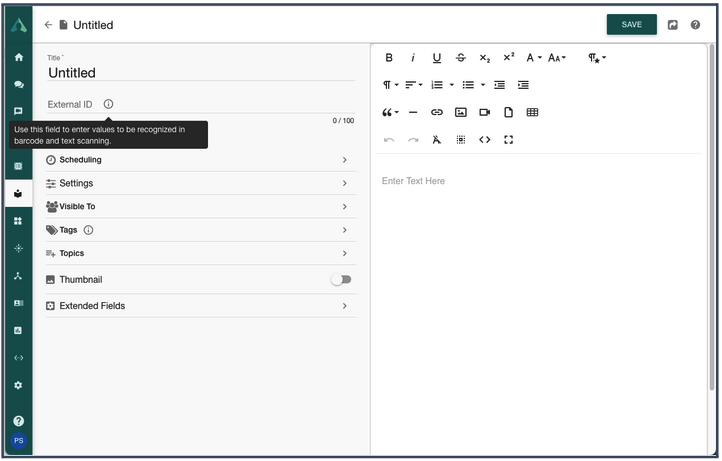 If you have unique identifiers set on your existing content, simply add those identifiers to the External ID field in the Atheer Content, and these same identifiers can be used to access your Content from barcode and text scans.
Know exactly when network connectivity is not available when using Atheer Lens
If network connectivity is not available on a mobile or hands-free device, user gets an upfront notification, and they are blocked from entering the Atheer Lens app.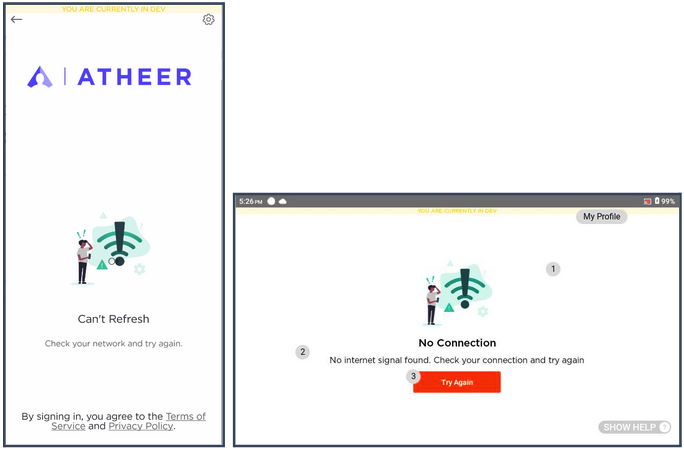 This prevents users from getting bumped out of the Lens app when not connected to Wi-Fi, so we provide them with a notification to remind them to connect to the network before getting into the app.
Note: If the "Enable offline mode" feature is activated, the limited functionality alert is disabled.
---

INTEGRATE ATHEER WITH EXISTING SYSTEMS
This quarter, we've increased the flexibility and accessibility of our platform and made it easier than ever for you to connect and deploy you knowledge base content to Atheer, to search Atheer through your API connection, and add Atheer functionality to your existing apps and websites.
The Iris Release of Atheer continues to improve upon the platform and your ability to connect to it with your existing external systems.

Use our external API support to create all types of Content
External API can be used to create ALL types of content, where previously only the Content type, Links" was available.
The API can be used to push content into Atheer from sources (e.g., learning management system (LMS))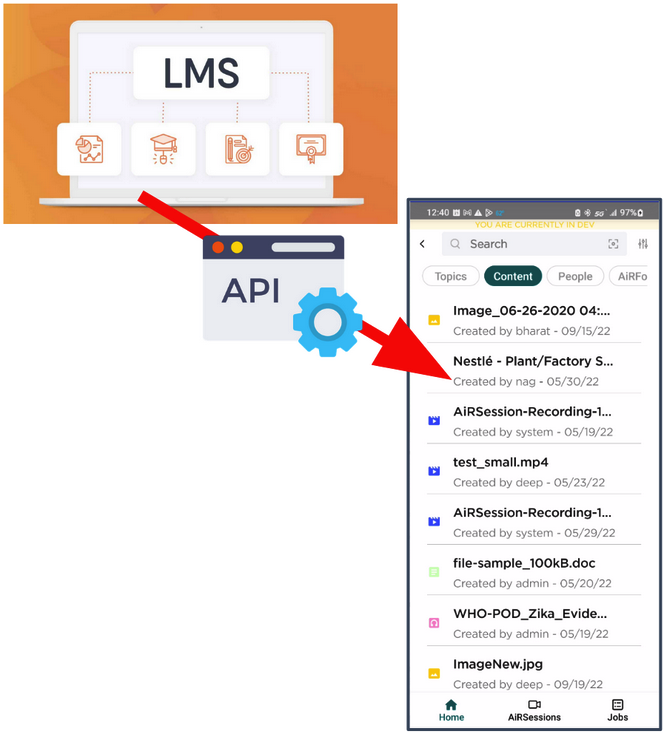 Customers can use our API to push their existing content from multiple sources into Atheer, so the content does not have to be manually recreated in Atheer.
Execute enhanced Content searches with our API improvements
Existing Content search API now supports search via last-modified-by, last-modified-on, and external ID.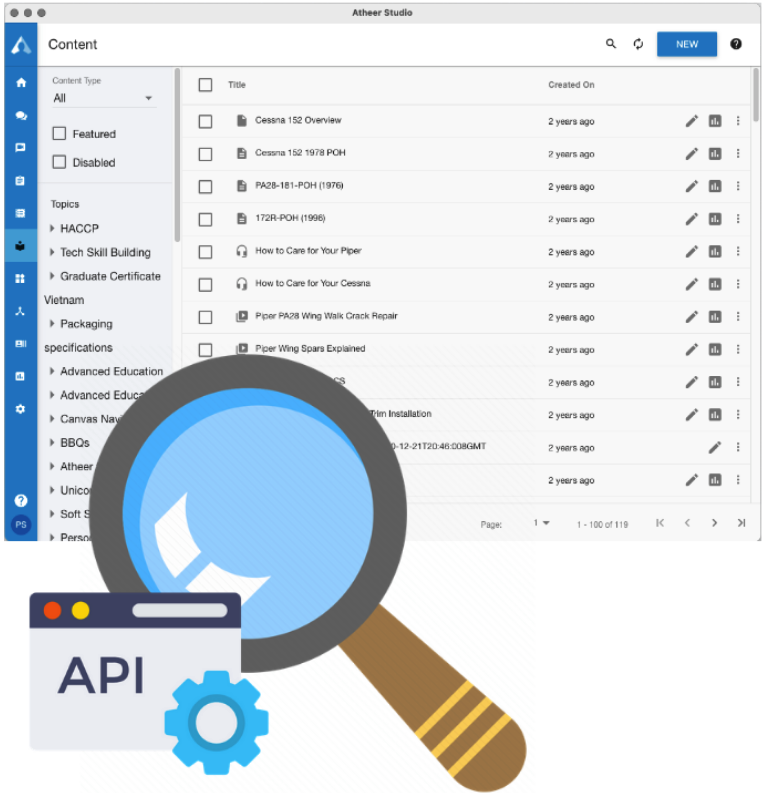 Customers can take advantage of our improved integration support by expanding their Content searches to include the last-modified-by, last-modified-on, and external ID fields.
Execute enhance User searches with our API improvements
Existing User search API now supports search via Added User custom fields.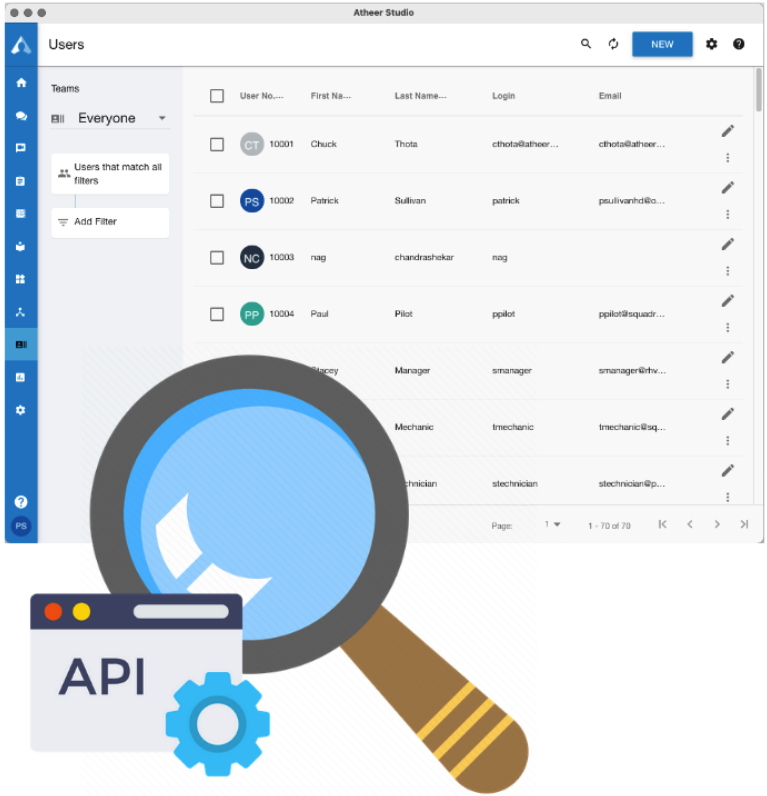 Customers can take advantage of our improved integration support by expanding their User searches to include User custom fields.
Connect AiRSession functionality to your existing scheduling app with our External API
We now have external API support for the following AiRSession functions:
Create AiRSession (Ad-hoc and scheduled)
Update AiRSession (Ad-hoc and scheduled)
Delete AiRSession instance (session that have been completed)
Get detail of specific AiRSession (scheduled and completed)
Search AiRSessions (scheduled and completed)
API to get link to captured annotations.
API to get insights (activities, summary)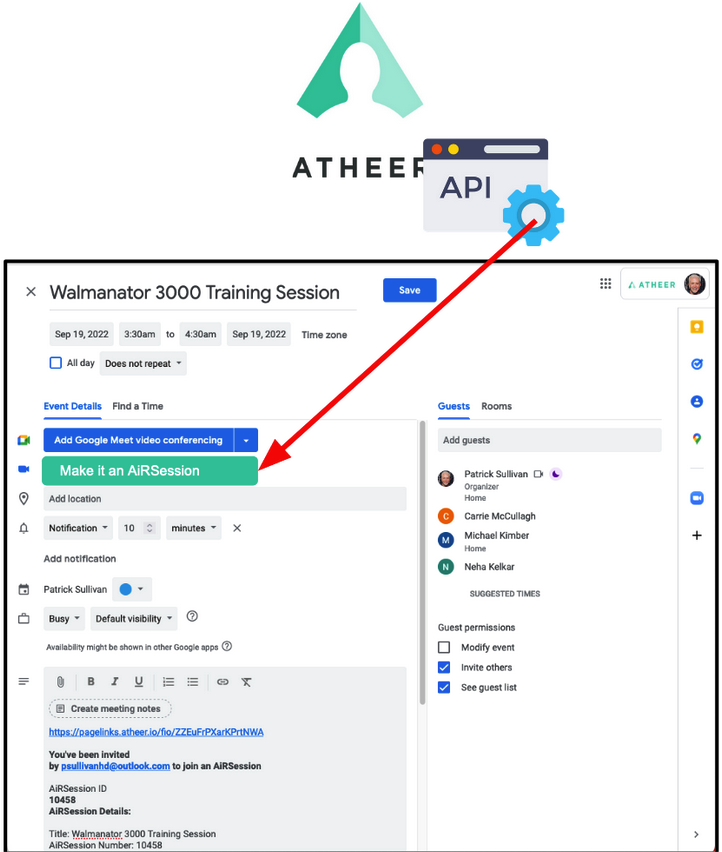 Customers can now use APIs to integrate the Atheer AiRSession features and functions directly into their own custom scheduling/calendar applications.
Customers' end users will be able to schedule and manage AiRSessions without having to use multiple applications.
---

OTHER UPDATES AND PERFORMANCE IMPROVEMENTS
In addition to the above, there are other updates and fixes in the Gale release that improve performance and the user experience throughout the platform.
Please feel free to reach out to our customer success team for additional information (support@atheerair.com).