We're excited to let you know of some important updates to the Eddy Release of the Atheer Front Line Worker Platform were issued on December 3rd, 2021.
Not only did we enhance and fine-tune existing functionality, we also added a few new features and capabilities designed to help your front line teams do their best, safest work.
We invite you to schedule a demo with your Customer Success Manager or Account Executive to learn more about how the November release of Eddy could help you with your most important work initiatives. Please remember that you have access to all the amazing features of the platform as part of your subscription - we don't want you to miss out!!
In the meantime, please read on for details of the November Release.


---
PLATFORM ENHANCEMENTS
As we continue to add more customers to the Atheer family our product teams are being kept busy to make sure we continue to deliver the best of class capabilities and user experiences.
In this release, we've added a few more Platform features and functions to improve to expand on what already existed in the Eddy release. Take a look:


---
Provide email support for the EU region
We now have support to send email in the EU region using SMTP in addition to the Sendgrid HTTP API that we already have in place for North America, Japan, and China.

This service is customizable by workspace/customer, and as of this implementation, the configurations need to be updated by the Ops team and are not available for the customer to configure from the admin web UI.
Our EU-based customers are no longer excluded from our built-in email notifications services.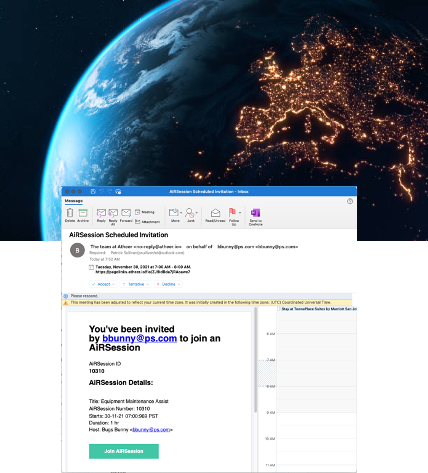 Enable your Admins to sign-in if they don't have Single Sign-in accounts
Atheer now offers a separate URL as a backup sign in page for use when the Atheer login is disabled by customers using SSO exclusively.
https://<workspace><domain>/Atheer-signin
Customers who use SSO exclusively can now disable the Atheer sign in page to avoid confusing their users and still be able to sign into Atheer with standard accounts.
The new alternate Atheer login page allows non-SSO users and Atheer personnel to sign into the workspace with standard Atheer accounts to perform administration and support functions.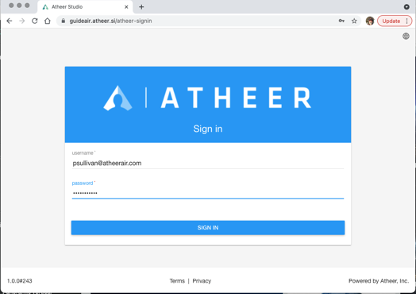 Trust that your users will be directly notified of system down times
When the Atheer back end is undergoing maintenance, Lens users will see a screen indicating that updates are happening. This does not yet apply to wearables.
System notifications are now being sent directly to the edge of the front line, so users don't have to call their technical support people when their service is interrupted due to system maintenance.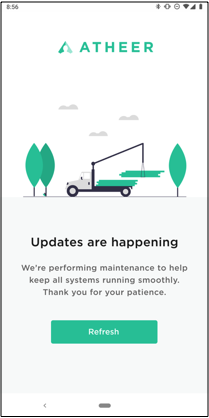 ---
SELF-ASSIST ENHANCEMENTS
Users love having contextual information at their fingertips in a self-service manner, and successful results in searching makes all the difference.
That's why we've added one more function to the Self-Assist environment.


---
Get even better search results now that Title, Description, and Tags are included in your Content searches.
To respond to customer requests, and to improve search functionality across Studio and Lens, search results have been expanded to include results from descriptions and tags, in addition to titles.
Now, the information you type into the description and tags is now part of the search and will prompt results.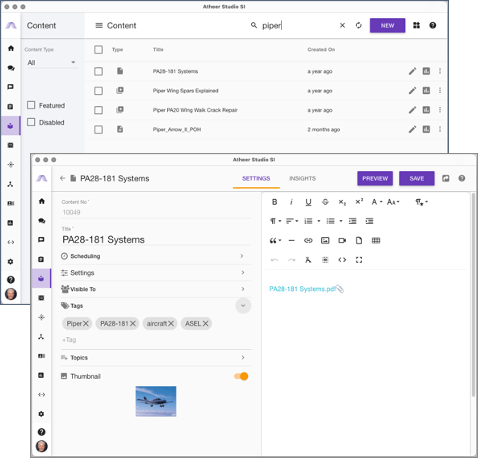 ---
REMOTE-ASSIST ENHANCEMENTS
Sometimes front line team members need more help than they can get from self-assistance. The enhancements we've made to our Remote-Assist capabilities in this release offer even more control over how you communicate and collaborate with your team.


---
Control how guests are notified of their AiRSession invitations
Customers now have the option to enable/disable email and SMS guest invites to AiRSessions. By default, these features will be enabled. When disabled, related functionalities in the Lens and Studio will get removed from the experience.
SMS and Email and SMS invites to AiRSession are now at the control of the customers.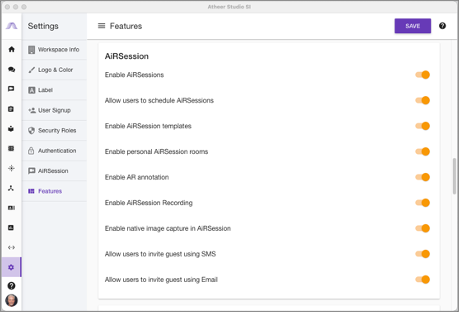 ---
WORK-ASSIST ENHANCEMENTS
Atheer supports the frontline workers through their jobs with Work-Assist capabilities. Atheer is a no-code platform, meaning that it allows teams to model and digitize all kinds of business processes without coding.
The November release continues to improve upon the Work-Assist features - including the reviewing digitized work instructions, and report exporting.


---
More easily find the AiRForm you are searching for, because the archived option is unchecked by default on AiRForms page
The AiRForm status "Archived" is unchecked by default when browsing through the list of AiRForms on the AiRForms page.
Archived AiRForms are not important enough to keep at the top of the AiRForm page list. While the filter allows these to be omitted, it is tedious to do this every time. Draft, Scheduled, and Active AiRForm should be prioritized to appear before archived AiRForms.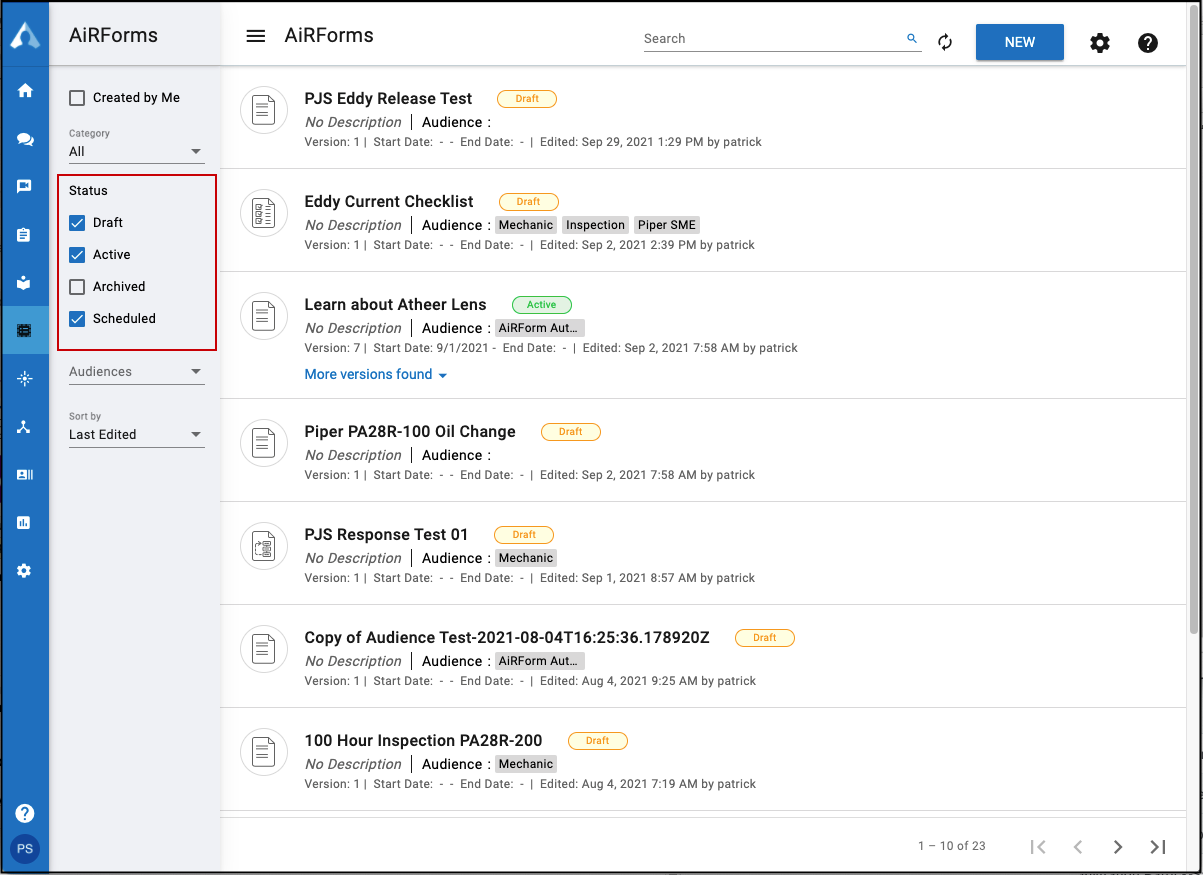 Get even more data in downloaded PDF reports now that the description field is added to PDF report of completed Jobs
Include the "description" that is present in the description box of the AiRForm as part of the Executed Job PDF report along with the the Section, Step Name, and Response Label.
Limitations:
Description is Rich Text; PDF library does not support rich text
Step Description will be part of Job's completed on/after the date when the feature support is deployed on Production.
For older jobs, this support is currently not available.
Now customers can choose to whether see the description within the Executed Job PDF report, which could include relevant and valuable information regarding the Job.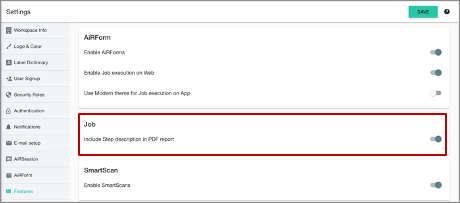 ---
FURTHER UPDATES AND PERFORMANCE IMPROVEMENTS
In addition to the above, there are updates and fixes in the November release of Eddy that improve performance and the user experience throughout the platform.
---
Please feel free to reach out to our customer success team for additional information.
---