Offline support in Atheer Lens empowers users to put the Atheer Lens app in offline mode when they're not connected to the Internet. Then, they can still experience the full use of the service of the app offline.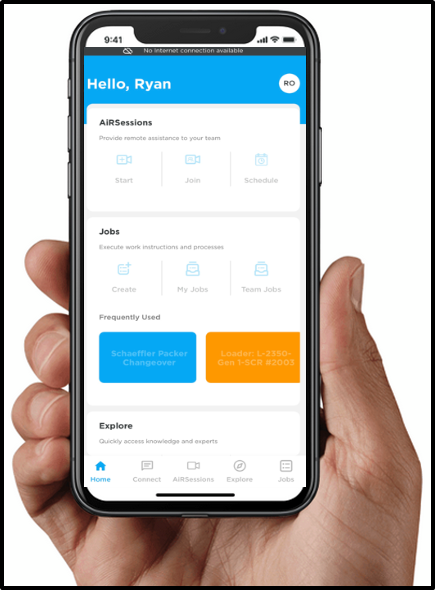 Job offline Execution Support
As of the Doppler release (July 17, 2021), Atheer supports Job Execution in offline mode - without the need of being connected to the network.
Planned Offline
Front line workers often find themselves in a position where they need to work in an area where they know there is no network availability; for example on a rig there are only certain spots where network is available and most working spaces have no connectivity. Similarly, front line workers who have to go out into the field where the availability and quality of the network is uncertain.
In such cases, Atheer gives our end users the ability to download and make available offline all the Jobs that they need to complete. The full job experience - including media, attachments and the ability to capture photos/videos will all be available irrespective of network availability. The workers can then seamlessly complete their jobs and once they are back in the network, they can easily sync back to the server.


Enabling Offline Mode
To enable Offline mode, follow these steps:
Sign into your Atheer Lens application (or web page) as a user with administrator privileges.

Go to Settings>Features.

Scroll down to the Atheer Lens section on the settings page and toggle on the Enable offline switch.

Click the SAVE button.



To execute a Job in Offline mode, follow these steps:
Sign into the Atheer Lens app.

Go to the Jobs screen.

Toggle the Offline Mode button to the "on" position ().

Tap the Jobs in the list that you wish to execute offline.

Go offline and execute the selected Jobs.

When you get back online, toggle the Offline Mode button to the "off" position ().

NOTE: Once you toggle the Offline Mode button to the off position (

), the system will automatically sync the Job data from the mobile device to the cloud. After the sync is completed, all of the Job data and information will be available in the system.