Doppler, the Third Atheer release of 2021, is now available.
Atheer helps you re-imagine how your front line teams perform work.
This latest release of the Atheer Front Line Worker Platform introduces many new capabilities designed for you to rapidly realize increased productivity, quality, and safety across your front line teams (including your extended enterprise).
We invite you to schedule a demo with your Customer Success Manager or Account Executive to learn more about how the Doppler Release could help you with your most important work initiatives. Please remember that you have access to all the amazing features of the platform as part of your subscription - we don't want you to miss out!!
In the meantime, please read on for details of the Chinook Release
---
---
PLATFORM ENHANCEMENTS
In order to continue to improve the reliability and robustness of the Atheer platform, we've made many enhancements and updates to the core infrastructure. We've focused on management of Users, support for third-party devices and app features that run on them, and expanding our support for large customer deployments and international access to the platform.
In order to continue to improve the reliability and robustness of the Atheer platform, we've made many enhancements and updates to the core infrastructure. We've focused on management of Users, support for third-party devices and app features that run on them, and expanding our support for large customer deployments and international access to the platform.
---
Support for Offline experience in Atheer Lens
Offline support is one of our biggest investments in the Doppler Release. Offline support in Atheer Lens empowers users to put the Atheer Lens app in offline mode when they're not connected to the Internet. Then, they can still experience the full use of the service of the app offline. Take a look at the Offline Support features in the Work-Assist and Remote-Assist product areas below.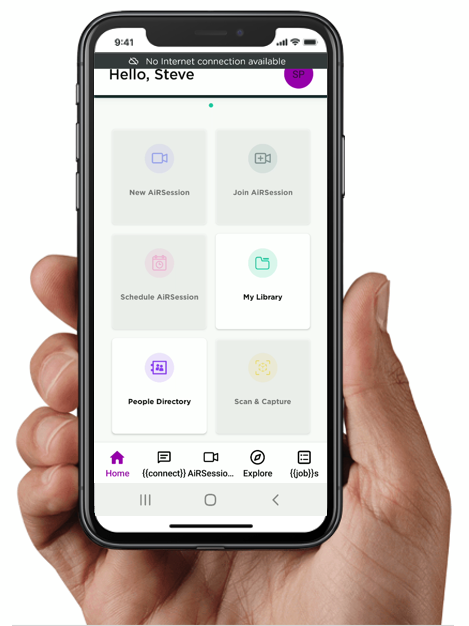 ---
Google SSO Support for Atheer Lens Hand-held
The security and convenience of Single Sign-on (SSO) into the Atheer platform has now been extended to include the Atheer Lens app for hand-held users. Users can now sign into Atheer Lens using their Google account. This saves time, improves user experience and adoption, and reduces the otherwise additional admin and help desk support for lost or forgotten passwords.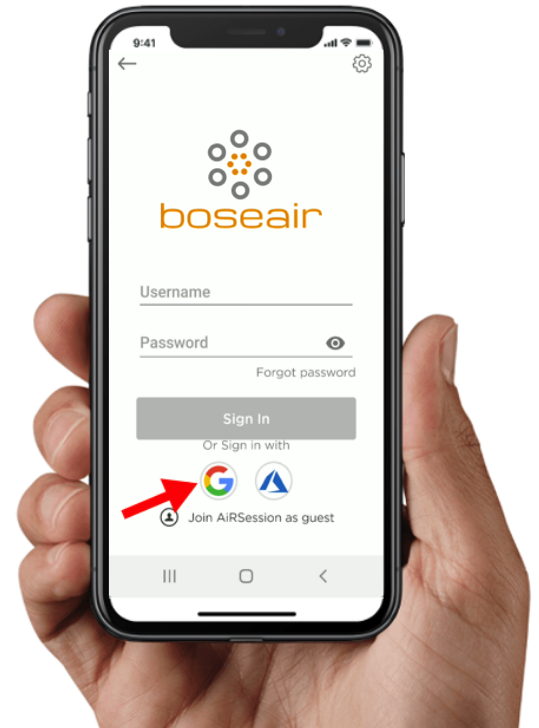 ---
Additional User Experience (UX) branding options
Regardless of whether the customer wants to brand their workspace with a dark background and light/white logos, or a light background with dark logos, we have a great solution for either choice. They simply upload their logo, make their background color choice, and Atheer does the rest. The Web browser tab icon, as well as the branding logos throughout, are all clear and beautiful.
We've also added two new colors to the color pallet: Teal and Blue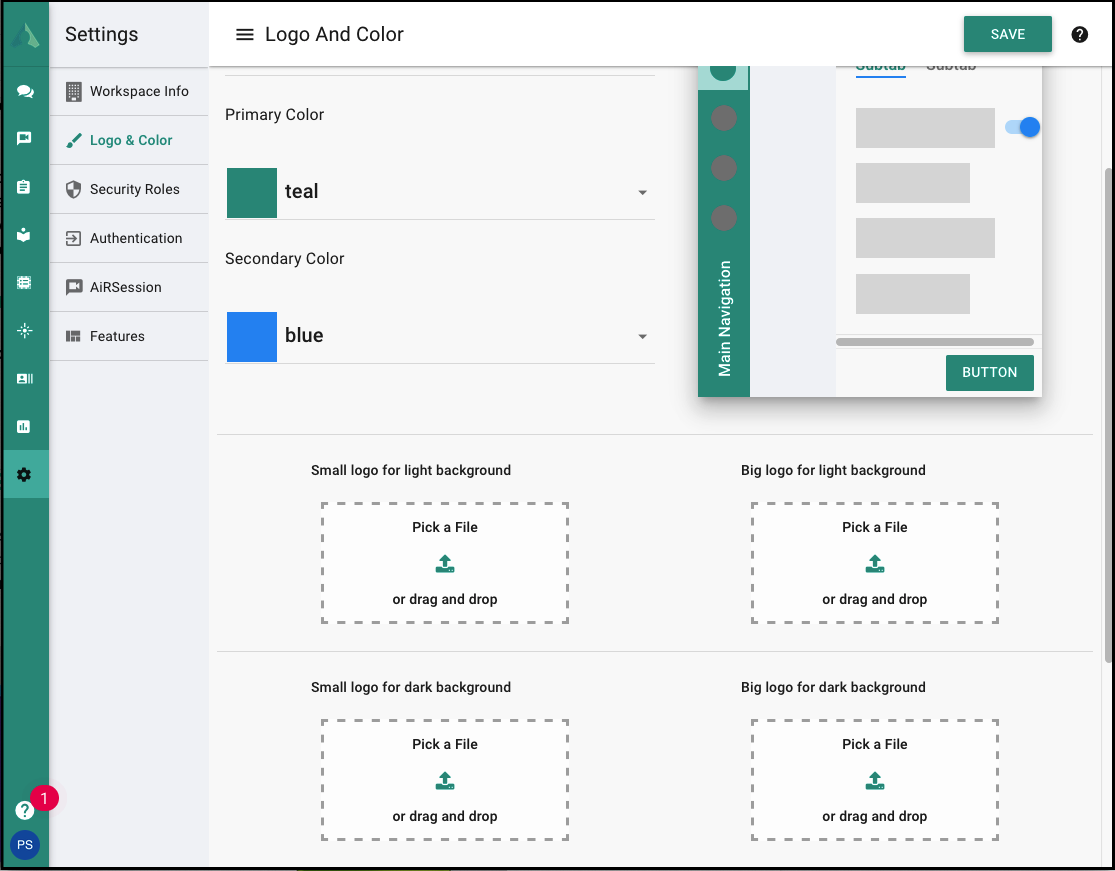 ---
Atheer Lens In-App Help Center (Knowledge Articles)
Access to the full breadth of knowledge in the Atheer Help Center is now available in the Atheer Lens app for hand-held devices. Embedded knowledge articles are now at your fingertips. Simply go to Settings>Help Desk to find articles on how Atheer Lens works, as well as enlightening information and videos all about the Atheer platform.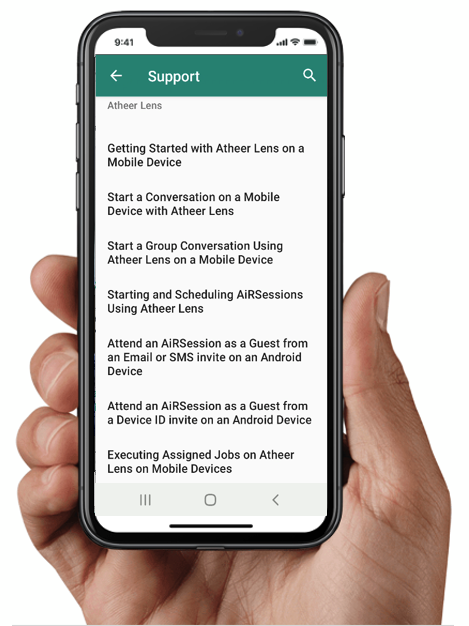 ---
Added Support for iPod Devices
Customers can now use Atheer Lens on iPod devices. iPods are less expensive than phones and smaller and easier to handle than iPads. This might be the perfect solution for customers who want the super portable convenience and don't have the need for phone functions or want the expense of purchasing iPhones.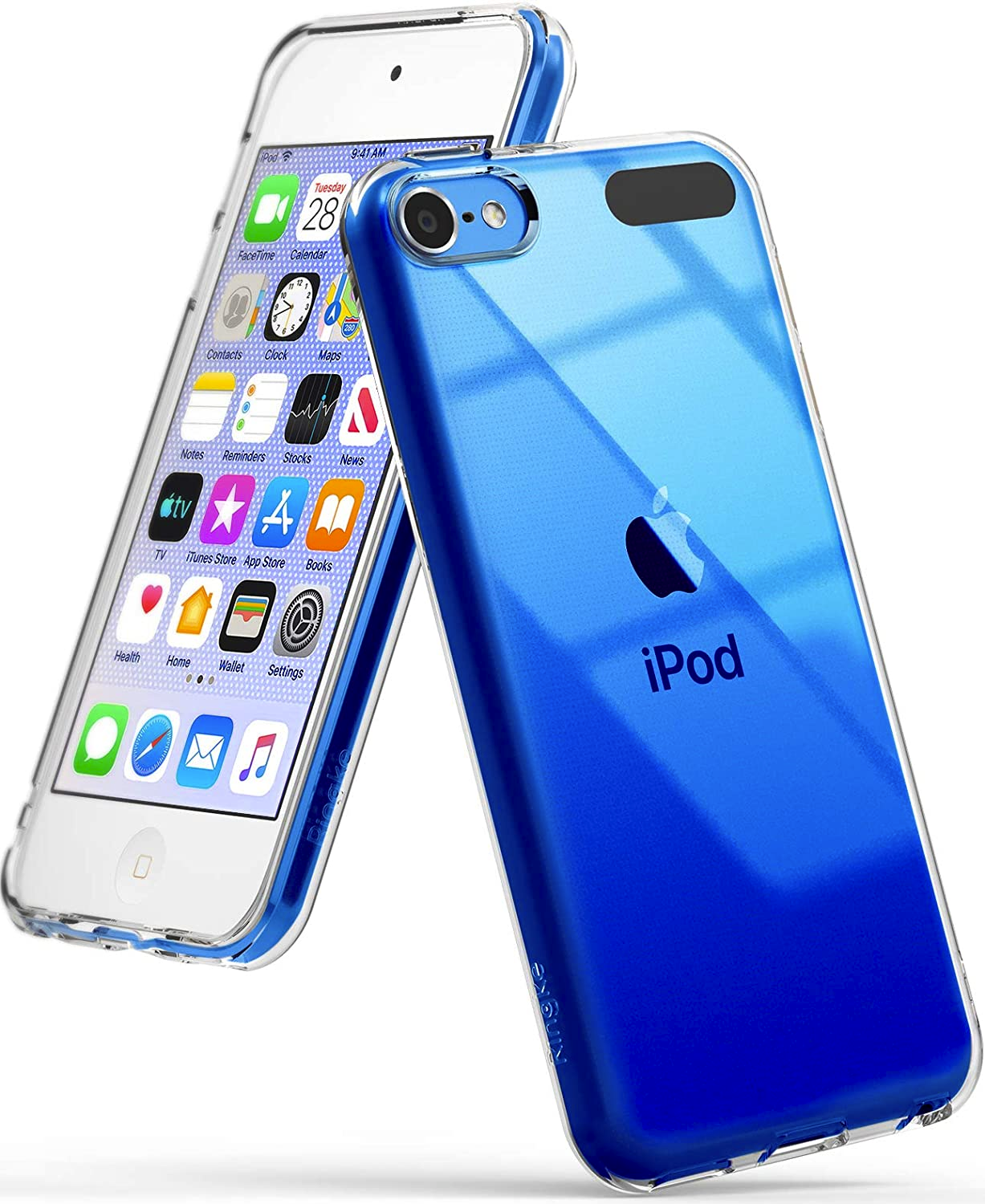 ---
Added Support for Android 7 Devices
We now support Atheer Lens on Android 7 devices. Customers may have perfectly good, older Android devices that they don't want the expense of replacing, yet may want to use them to run Atheer Lens. Now they can. Android 7 (Nougat) was released in August of 2016, and Atheer Lens will now run on devices using that version.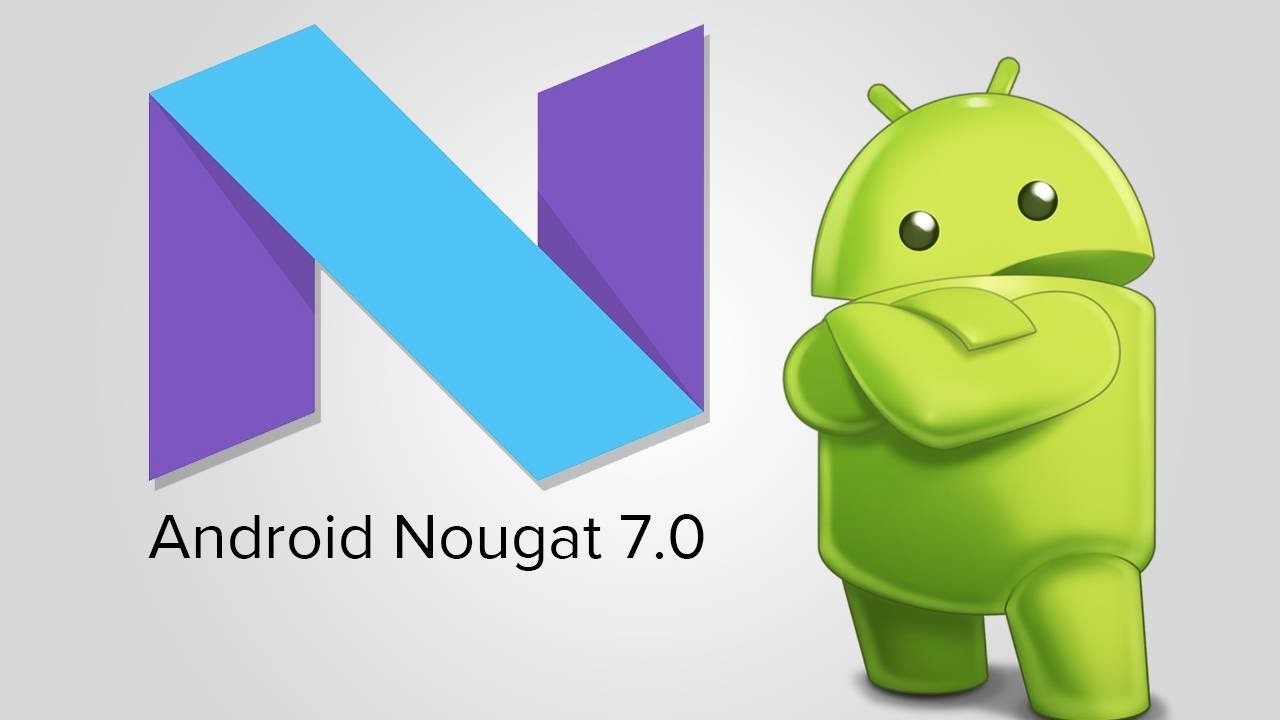 ---
Additional Assistance for Administrators During the Bulk Importing of Users
The bulk importing of users into Atheer has long been a well received feature. There are issues that can arise during any importing process that can halt it - including the password rules not being met. These issues are challenging for administrators and need to be identified and corrected immediately. Now, when errors are generated during the bulk user import process in Atheer, the system indicates why the import failure occurred. This will help administrators quickly resolve the data errors on the CSV or Excel sheet being imported and guide them to success.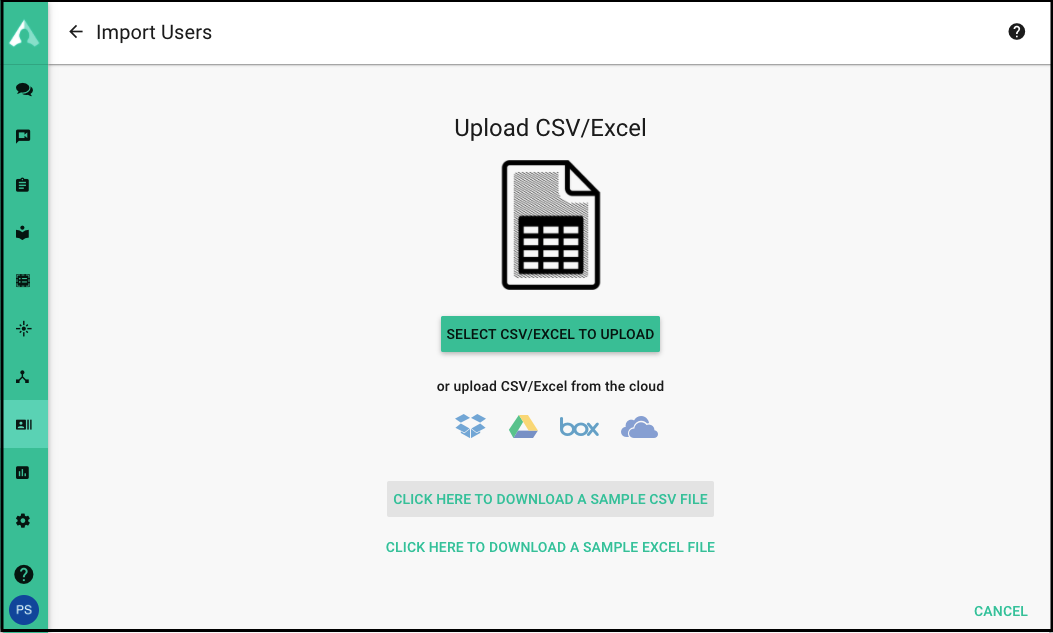 ---
Enhanced Translation Accuracy for Atheer Lens and Atheer Studio Internationalization
We are continually optimizing the support for the 9 languages available on the Atheer platform. We adopt the feedback we receive from our colleagues and customers who are native speakers of these supported languages. These iterations are what make our supported language user experiences more and more fluid and natural.
Atheer Lens and Atheer Studio are now well-supported international experiences by simply choosing your language of choice before you sign-in.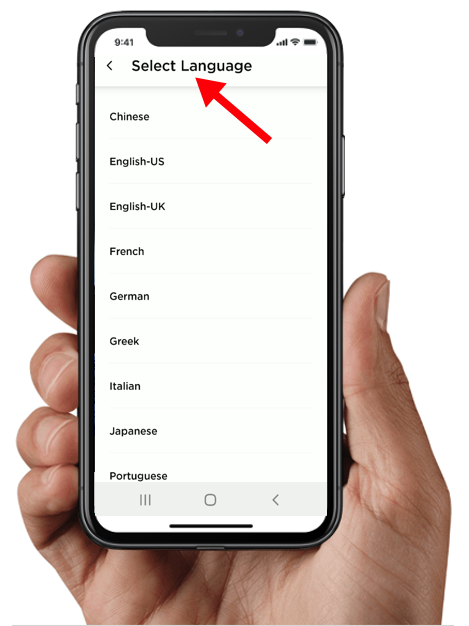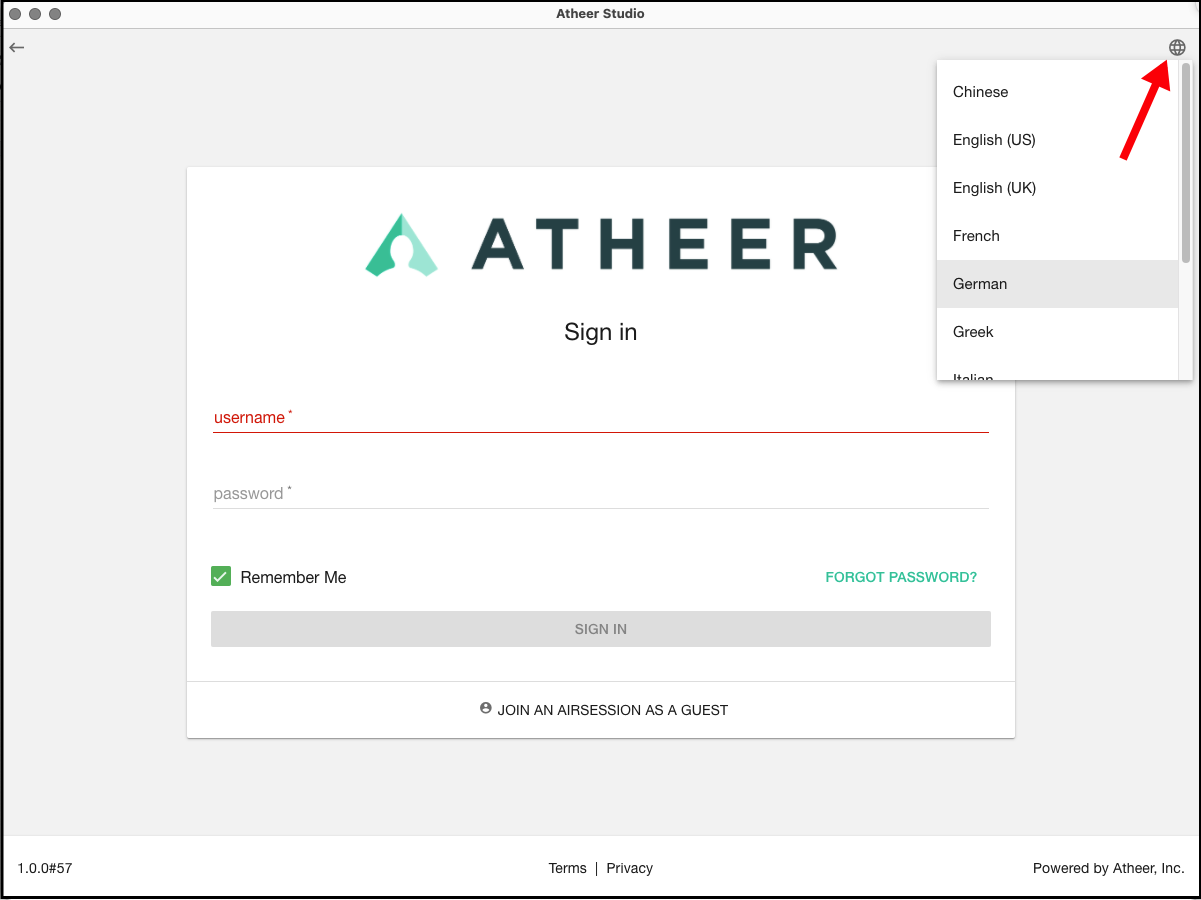 ---
Improving the User Experience for Atheer Lens
We've added several layout improvements to the Lens Profile user experience. We're always trying to improve things by adopting the important customer feedback. These improvements make the Atheer Lens app even easier to use and ever more intuitive.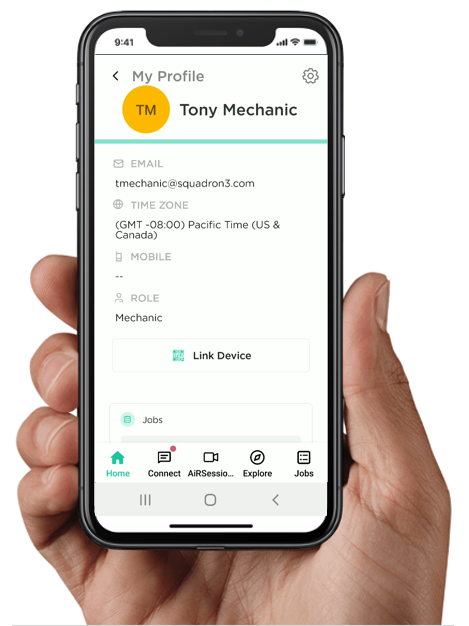 ---
Incoming Chime/Sound/notification for In-app notifications
We've enhanced the in-app AiRSession invitation notifications to include a chime/sound when the notifications are getting delivered. The chime is a great attention getter to let the users know that they've been invited to an AiRSession.
Over-the-air Update UX Improvement
We've enhanced the Atheer Lens over the air update process to now give users the option to skip, or update later, on optional updates when notified that they're available. We'll remind the users that the updates are available two or three times at login, and then finally force the update. Now users don't have to interrupt their work schedule to run optional updates.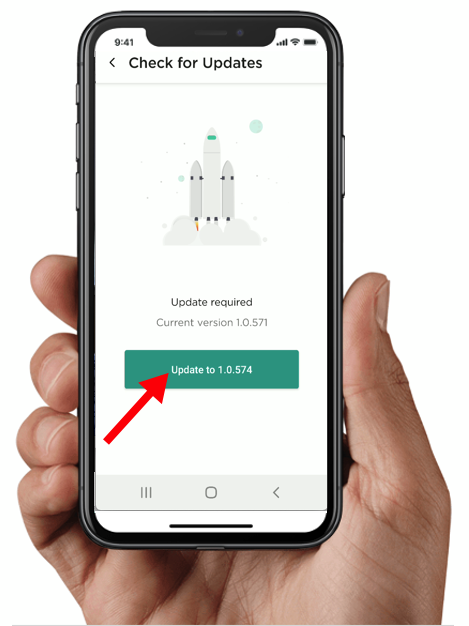 ---
---
SELF-ASSIST ENHANCEMENTS
Users love having contextual information at their fingertips in a self-service manner, whether it is finding an instruction manual for something they are working on, or the inspection procedures for a machine or asset they happen to be in front of.
That's why we've enhanced our Self-Assist notifications to include content sharing feature to make it even easier for them to access and share contextual knowledge and information.
---
Notification for Content Sharing
Added notification for content sharing is bringing more visibility to actions that are already happening by triggering notifications for them. Notifications are intended to bring in engagement by allowing the users to stay connected even though the app isn't open or up front.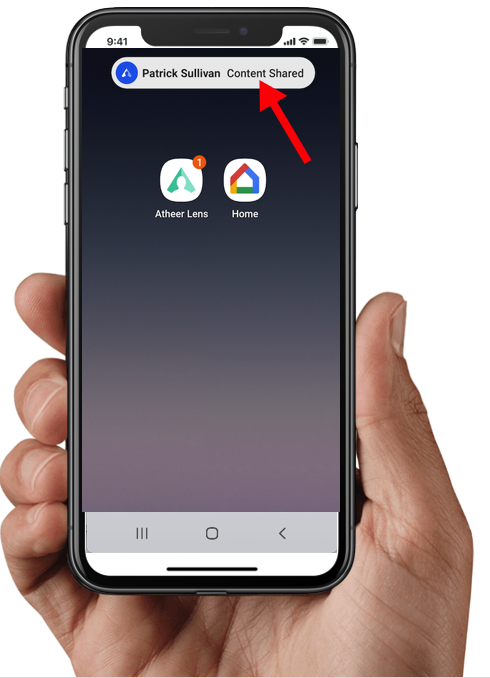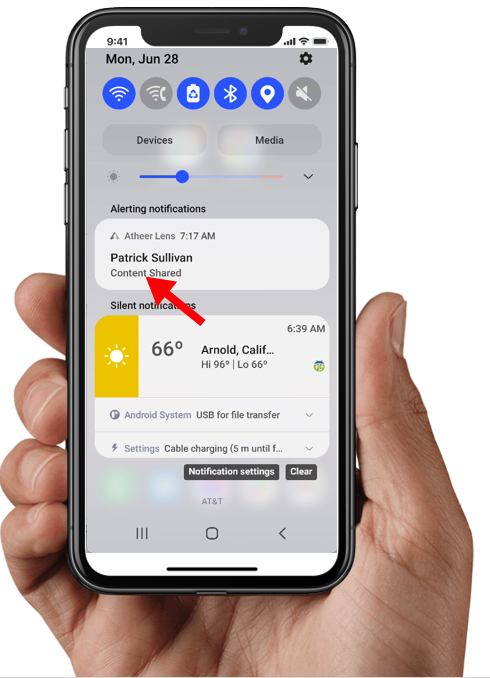 ---
---
REMOTE-ASSIST ENHANCEMENTS
Sometimes front line team members need more help than they can get from self-assistance. The enhancements we've made to our Remote-Assist capabilities in this release are all about providing greater flexibility in how front line team members get remote assistance - and making the Remote-Assist experience both richer and easier to use.
---
Notification to Indicate an Attendee Has Captured a Screenshot
This feature optimizes heavy use of screenshot functionality. During AiRSessions, users now get an indicator that a screenshot was taken, so everyone is aware, and duplicate screenshots do not become an issue. Each screenshot taken during an AiRSession is saved as an asset in the system. This feature can reduce the number of screenshots that need to be reviewed when the AiRSession is over.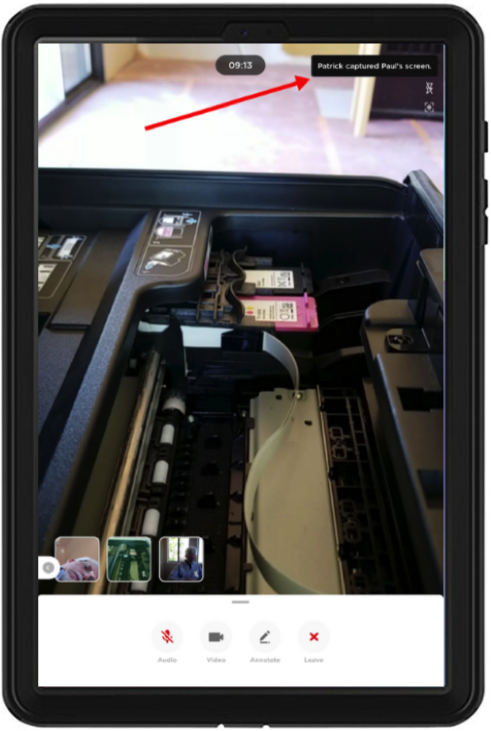 ---
AiRSession No./AiRSession ID Display in Email and Text Invitations
When sending out an email invitation, sometimes the AiRSession code and number were not available in the text of the email. Now, the AiRSession No. is displayed in the invitations for Atheer Users, and the full AiRSession ID is displayed in the invitations for Guests (Guests' need the full AiRSession ID (including the Workspace No., because they're not members of the workspace). There is no change in the functionality. This is just a change in how we present the invitations to avoid confusion.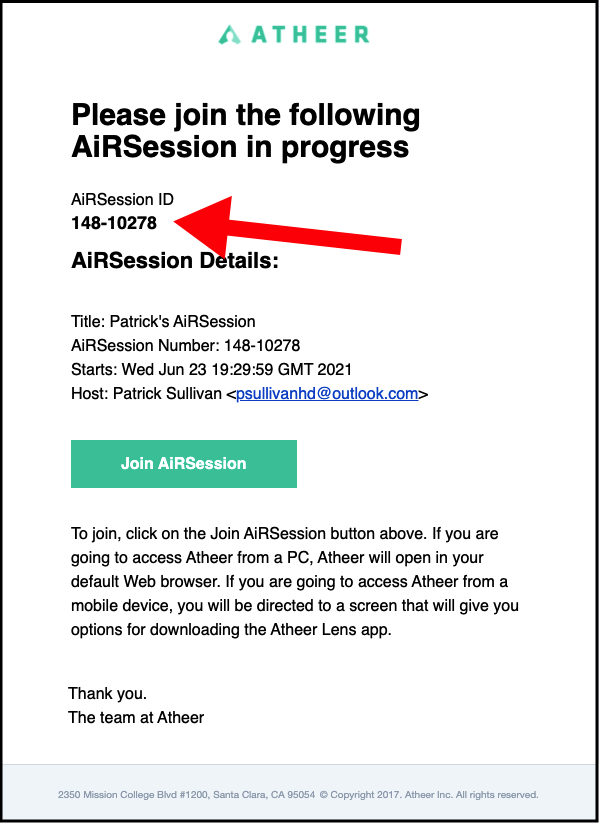 AiRSession Email Invitation to User AiRSession Email Invitation to Guest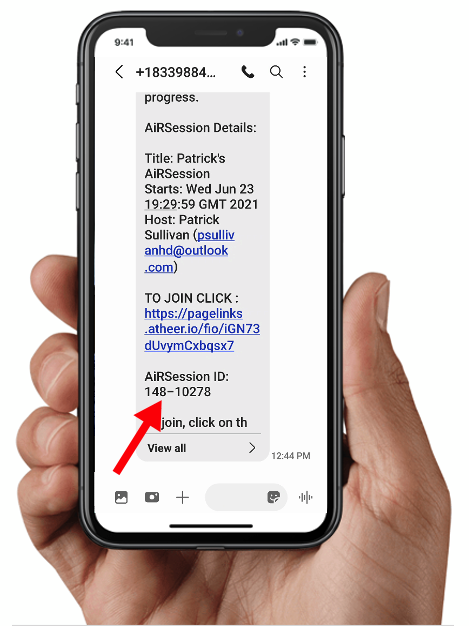 AiRSession Text Invitation to Guest
---
Send Calendar Invite to Host of a scheduled AiRSession
When setting up a scheduled AiRSession, not only are the guests sent calendar invites, but now the host of the meeting will also get a calendar invite. The meeting host can now simply accept the emailed invite to have the AiRSession added to their calendar.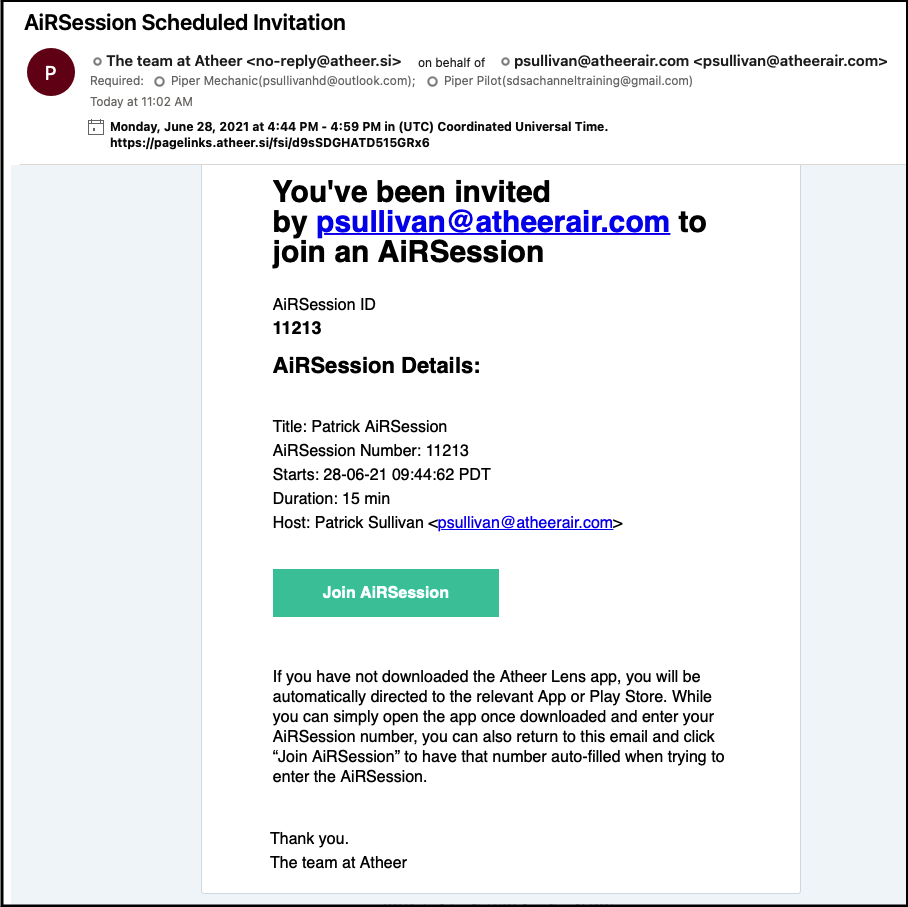 ---
Download All Screenshots (zip + download) from AiRSession Details
When many screenshots are accumulated during an AiRSession, we now have the option to download all screenshots together in a single zip file. This eliminates the need to individually download each screenshot. It also makes sharing and storing of screenshots much easier.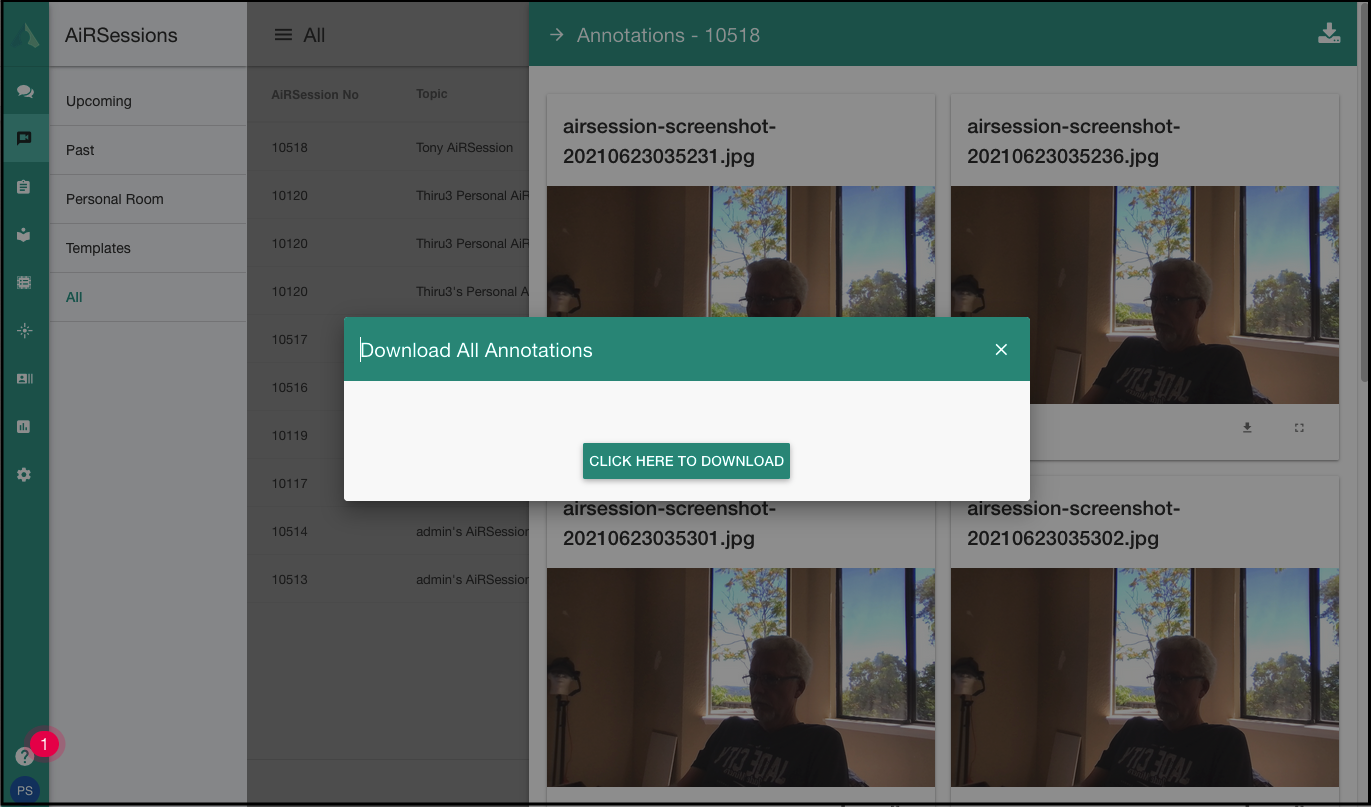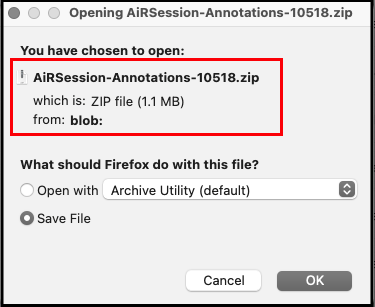 ---
Switching AiRSession Video Feeds on Atheer Lens for the Hands-free Devices
When Atheer Lens hands-free users go to "More > Switch Users" to switch video feeds during AiRSessions, the associated "select item" number is available alongside the list of available user feeds.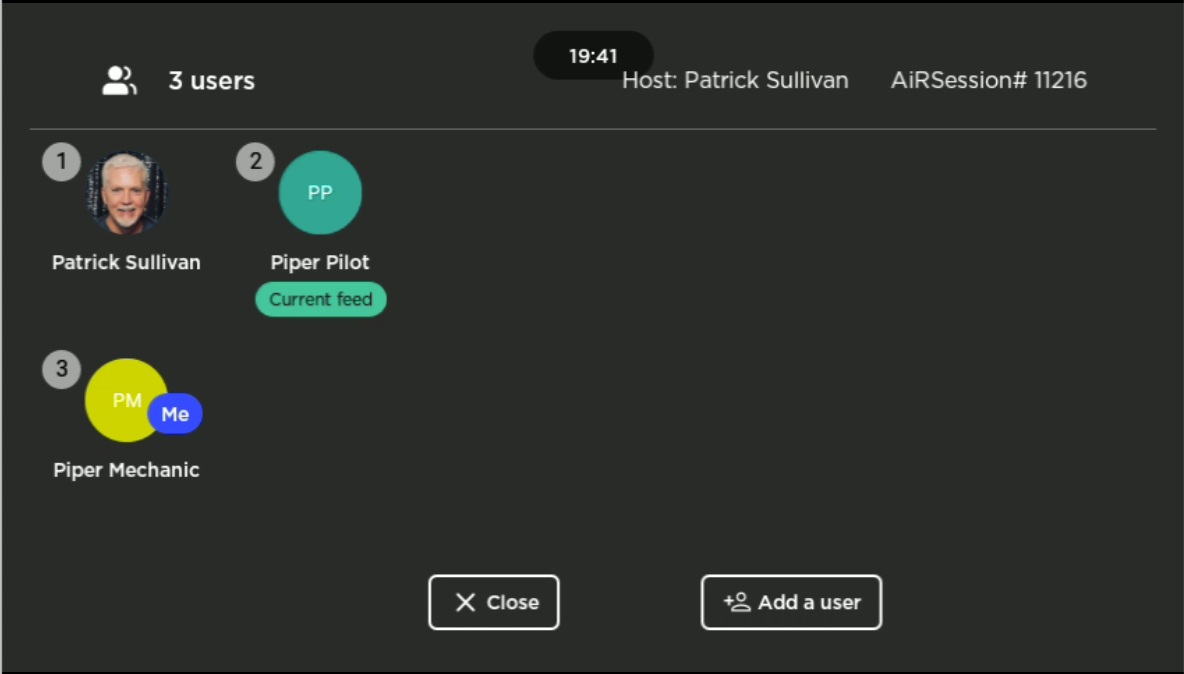 The new "My Feed" feature allows these users to switch their video feed back to their own camera with a single, easy to use command.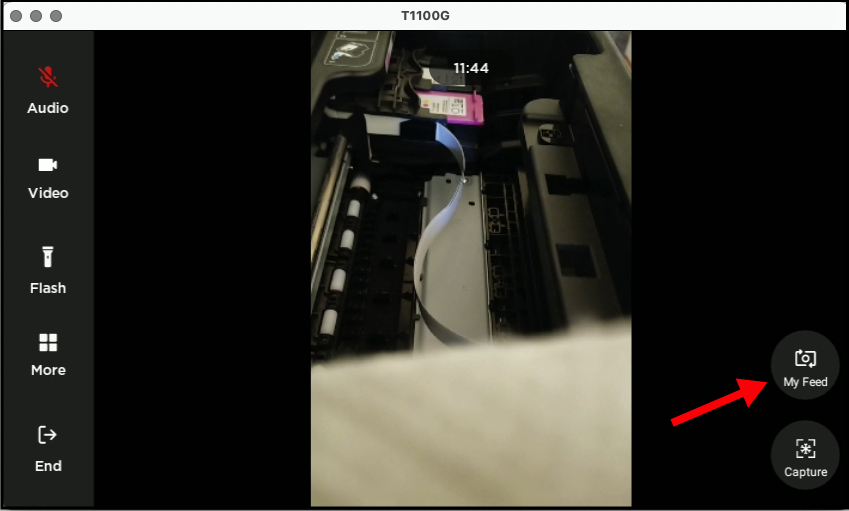 These new enhancements allow users of head-mounted tablets to use simple commands to more easily switch video feeds during an AiRSession.
---
Video Playback Speed Controls
When reviewing recordings captured during AiRSessions, users will now have the choice of video playback speeds of 0.25x, 0.75x, 1x, 1.25x, 1.5x, and 2x speeds. This makes reviewing long videos much easier, as they can be played back at a variable speeds for quicker review or detailed analysis. To adjust the playback speed, click on the Settings button and select your playback speed of choice.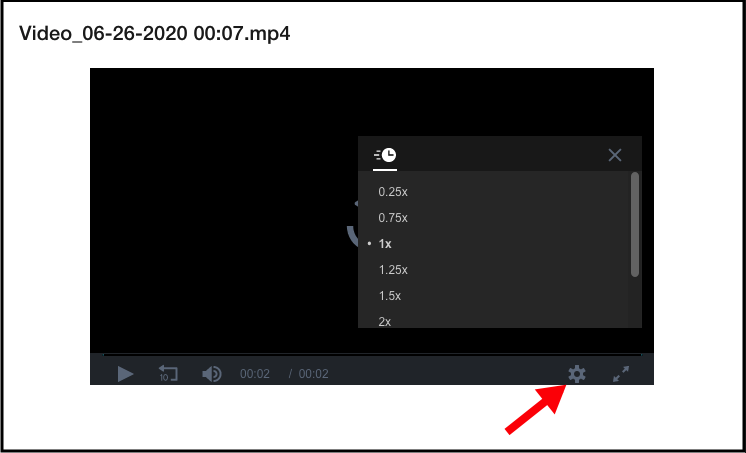 ---
---
WORKFLOW-ASSIST ENHANCEMENTS
Atheer supports the front line teams through their Jobs with Workflow-Assist capabilities. Atheer is a no-code platform, meaning that it allows teams to model and digitize all kinds of business processes without coding.
The Doppler release of Atheer continues to improve upon the Workflow-Assist features - including adding the ability to seamlessly complete Jobs even when disconnected from the network.
---
Job Offline Execution Support
As of the Doppler release, Atheer supports Job Execution in offline mode - without the need of being connected to the network.
Planned Offline
Front line workers often find themselves in a position where they need to work in an area where they know there is no network availability; for example on a rig there are only certain spots where network is available and most working spaces have no connectivity. Similarly, frontline workers who have to go out into the field where the availability and quality of the network is uncertain.
In such cases, Atheer gives our end users the ability to download and make available offline all the Jobs that they need to complete. The full job experience - including media, attachments and the ability to capture photos/videos will all be available irrespective of network availability. The workers can then seamlessly complete their jobs and once they are back in the network, they can easily sync back to the server.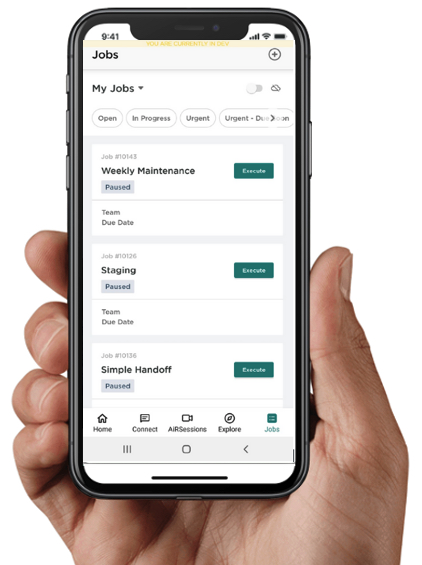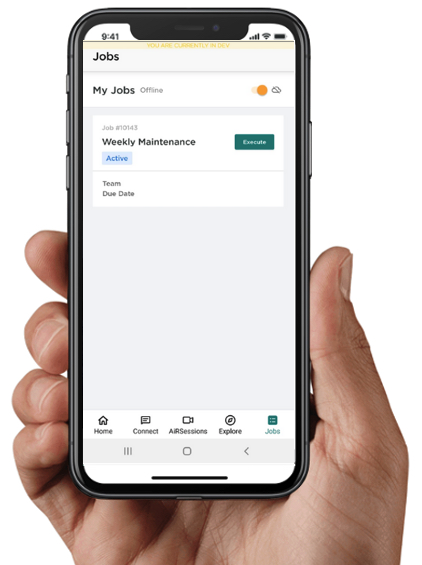 While online Offline (Job Selected)
---
Job Execution via the Atheer Studio Web platform - Support for Media
As of Chinook release we introduced the "Job Execution Lite" - which was a limited functionality of Job execution on the Web and the desktop app. With Doppler the Job execution experience on the Web is on par with the experience on Handheld and Wearable apps.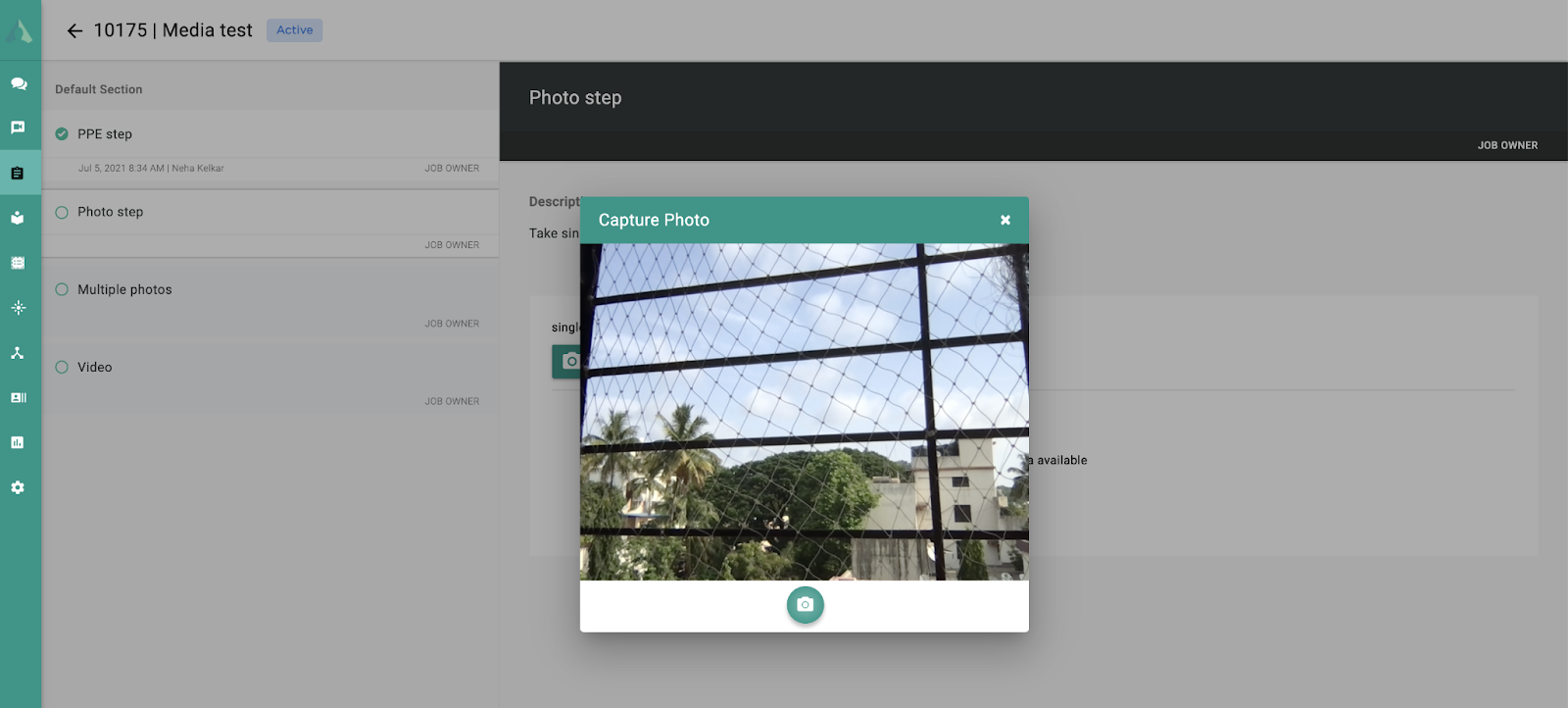 ---
Super Job Manager - role support on Lens & Studio
Doppler also sees the introduction of a new role permission - "Assign to anyone". Any user who has a role with the permission to "Assign to anyone" will be able to assign Jobs to any active user in the Workspace; irrespective of the team membership. This permission comes pre-bundled in the out-of-box role called "Job Admin". However, it can also be added to any custom roles as required.

---
Support for Diagnostics Use Case
We now support modeling of diagnostics use cases as AiRForms. A diagnostics use case is one where a series of "yes/no" questions are posed with the aim to find the root cause of or "diagnose" a problem or an issue. The user continues to be asked questions until the root cause is identified, however once the diagnosis is made, the process ends. The same can now be modeled as an AiRForm inside Atheer. This can be accomplished by simply adding a "go-to-end" response as a deviation - meaning "skip to the end of the Job when problem is solved"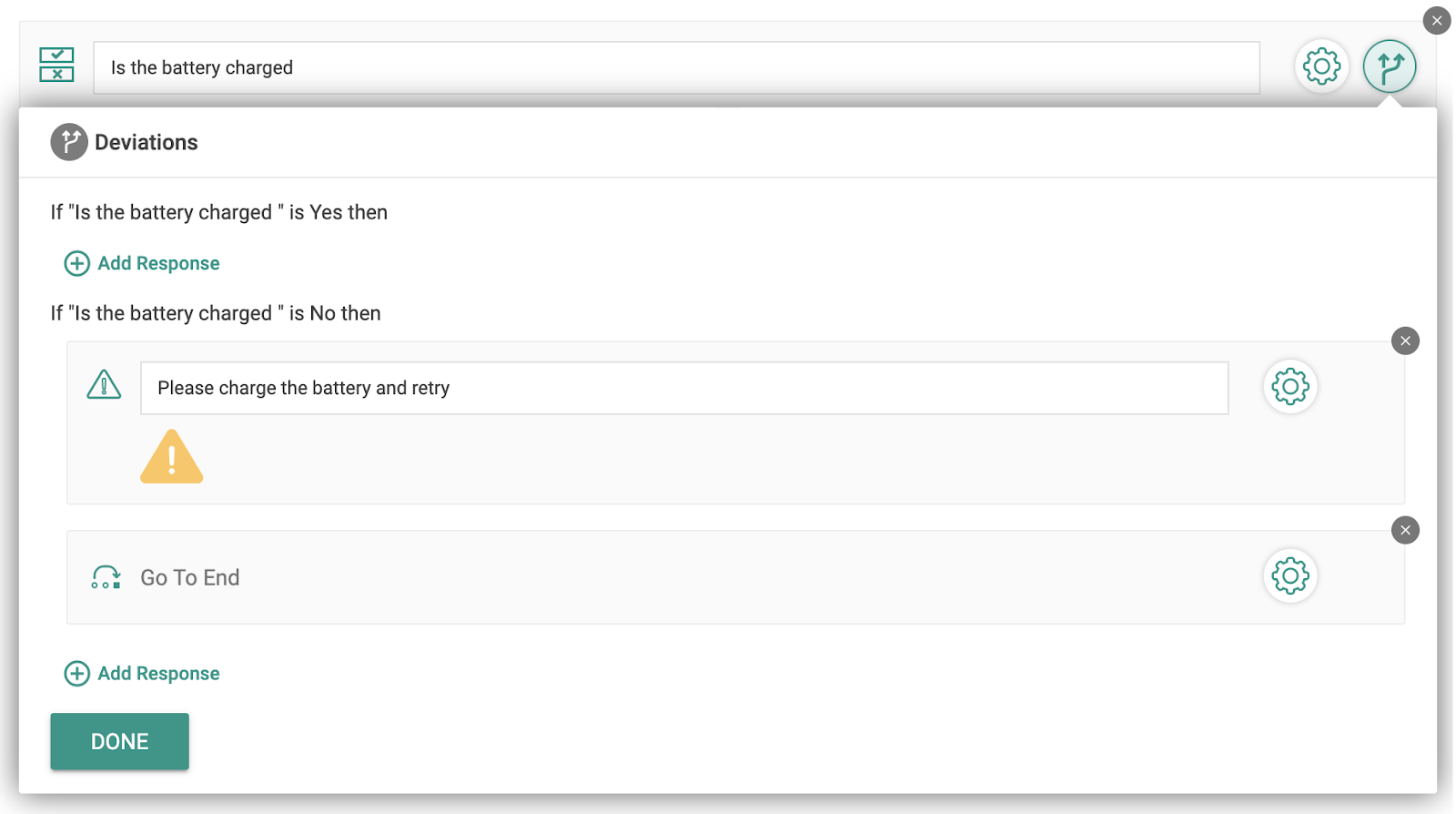 ---
PPE step with Out-of-box Icons
We now provide an out-of-the-box PPE step along with icons. These icons are ISO standard and can be easily used to indicate PPE requirements.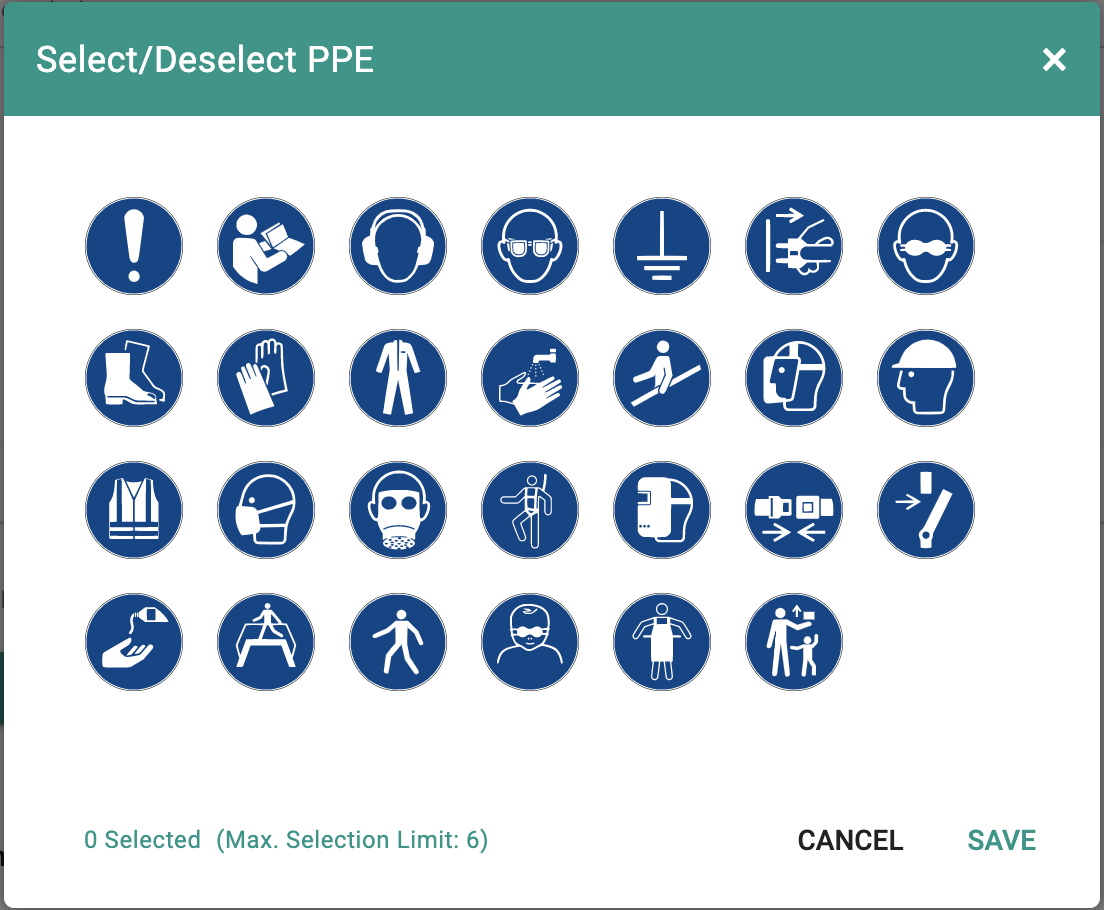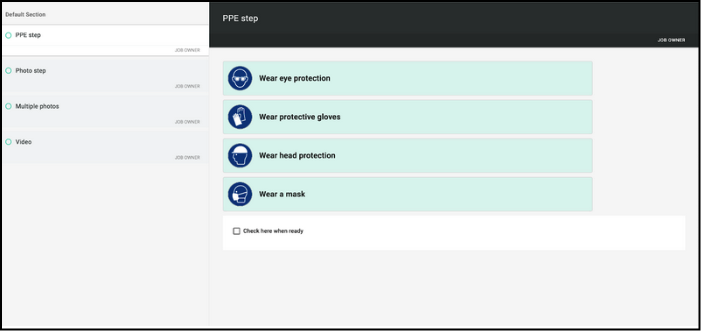 ---
Drag and Drop to Reorder Responses (authoring)
During AiRForm authoring - drag and drop to easily reorder responses.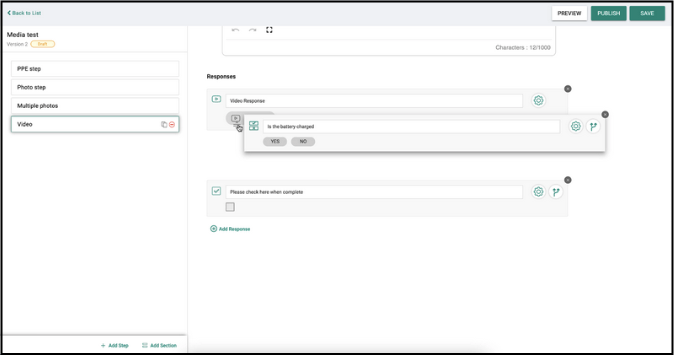 ---
iPod Support
Job execution is now supported on the iPod app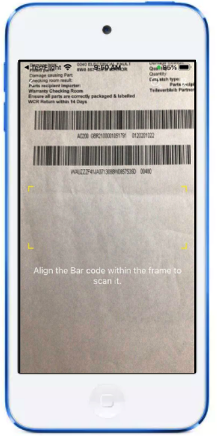 ---
Search within Multiple Choice in Job Detail & Job Responses
For multiple choice responses - search functionality can be provided to search within the options. This can be used in case there are several options to choose from.
---
Atheer Studio Job Execution Enhancements
Job execution/management capabilities in Atheer Studio now include:
Zoom, pan, and rotate image in media preview

TOC navigation, which allows you to navigate to completed steps

Copy to clipboard option for Job detail values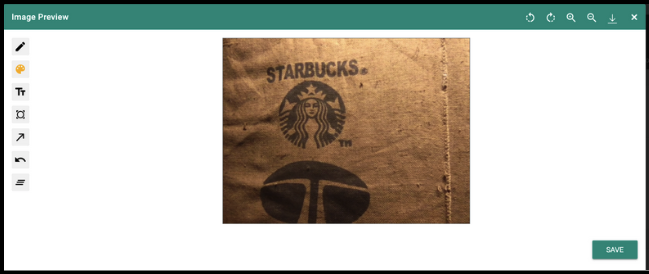 ---
eJob Report PDF - Support for large number of steps, media
For large AiRForms with over 150 steps and several media responses - we now support generating the PDF report.
---
---
FURTHER UPDATES AND PERFORMANCE IMPROVEMENTS
In addition to the above, there are updates and fixes in the Doppler release that improve performance and the user experience throughout the platform.
---
Please feel free to reach out to our Customer Success team for additional information.
---
---