Chinook, the second Atheer release of 2021, is now available.
Atheer helps you re-imagine how your front line teams perform work.
This latest release of the Atheer Front Line Worker Platform introduces many new capabilities designed for you to rapidly realize increased productivity, quality, and safety across your distributed teams (including your extended enterprise).
We invite you to schedule a demo with your Customer Success Manager or Account Executive to learn more about how the Chinook Release could help you with your most important work initiatives. Please remember that you have access to all the amazing features of the platform as part of your subscription - we don't want you to miss out!!
In the meantime, please read on for details of the Chinook Release


---
---
PLATFORM ENHANCEMENTS
In order to continue to improve the reliability and robustness of the Atheer platform, we've made many enhancements and updates to the core infrastructure. We've focused on management of Users, support for third-party devices and app features that run on them, and expanding our support for large customer deployments and international access to the platform.


---
Atheer Lens now supports Vuzix M400
Customers can now use Atheer Lens on Vuzix M400. All the features except conversation are supported. We expect customers to install Vuzix 2.1.0 OS, which has support for mouse pointer for interacting with applications.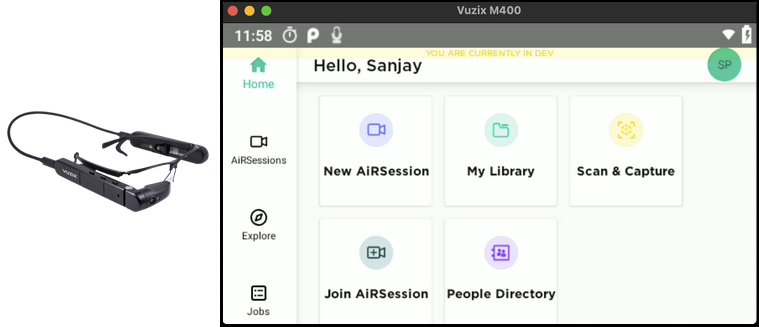 ---
Atheer Lens now supports complete white labeling
This app will not ask for workspace information.
You will see unique branding in app store and unique app logo.
If your company needs their own white label app with their own unique branding and app logo in app store, we can deliver it.
(Please keep in mind that this feature is offered as add-on and it's not included in standard subscription)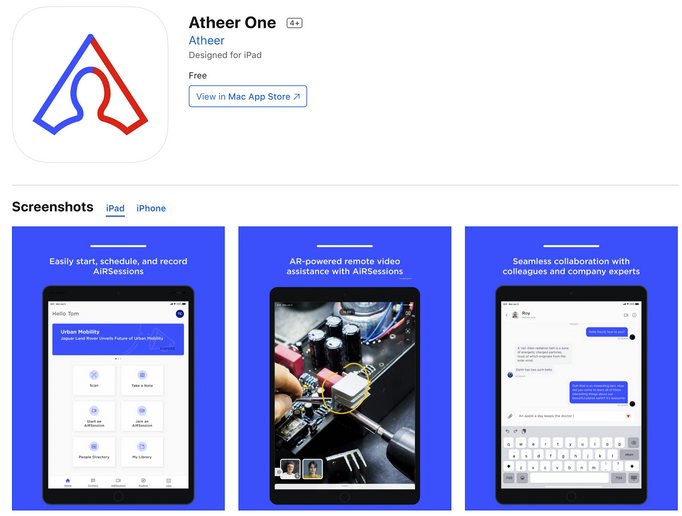 ---
Users can now access Atheer Lens and Atheer Studio in different Languages
Users can now access Atheer Lens and Atheer Studio in 9 different languages.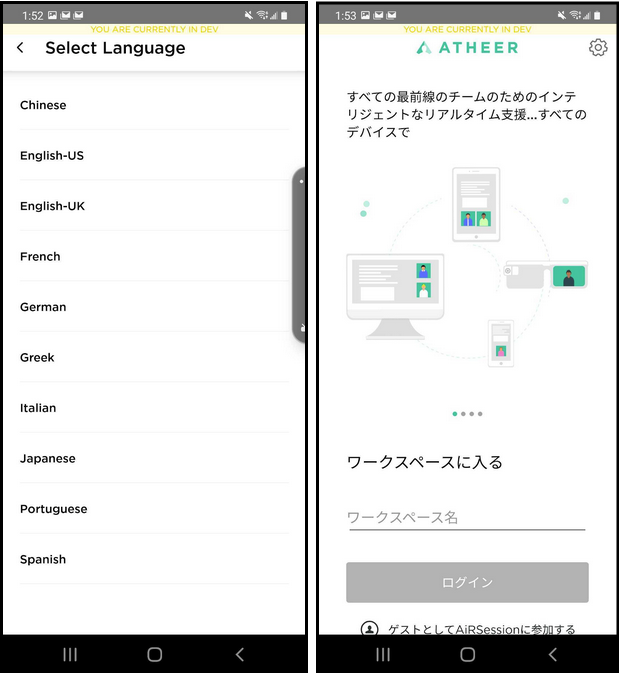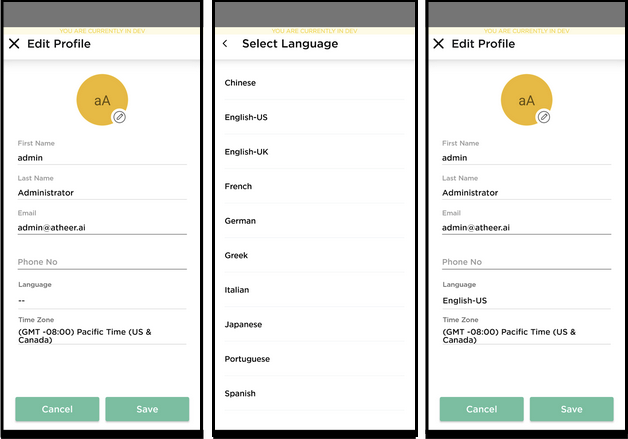 ---
Support for proxy configuration (Android Only)
Added support for entry of proxy settings on devices to connect to the Atheer Cloud from secure company networks. Support for HTTP Proxy.
---
Ability for Workspace Super Users to configure features
Atheer now has a Features tab that can be accessed from the main Settings page where the Super Users can toggle on and off the features that are available for users. Simply click on the

Settings button on the main Atheer toolbar, and then on the FEATURES tab.
Settings pict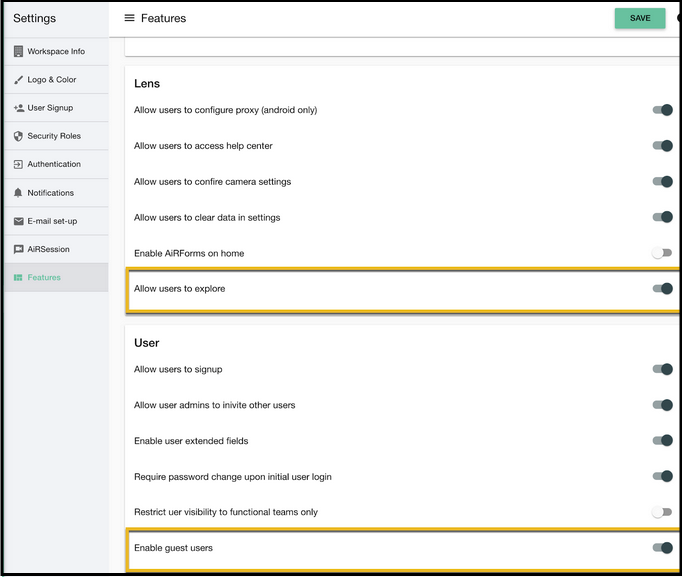 ---
New feature flags to configure Atheer Lens and Atheer Studio
We've added feature flags to control visibility of the following Atheer features:
- Guest Invite - If this is turned off, logged in users will not be able to to invite guest users
- Explore - If this is turned off, users will not see "Explore" menu in Atheer Lens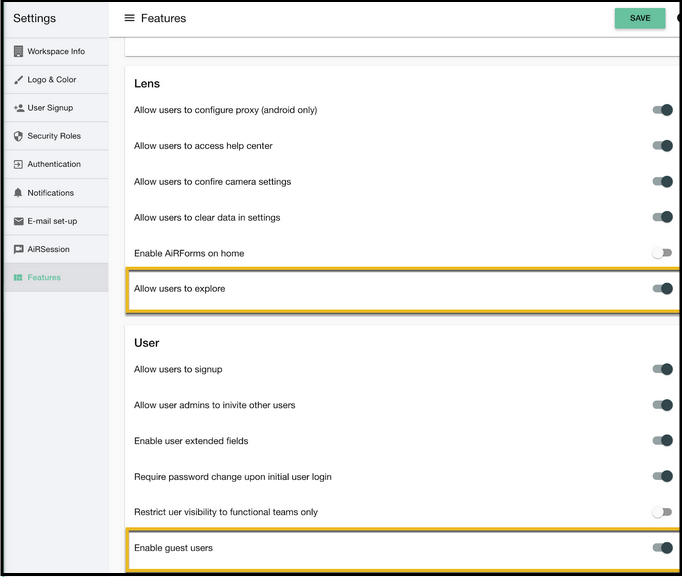 ---
Ability to disable workspace (Internal Only)
We now have the ability to disable the workspace. Once the workspace is disabled, users will not be able to login into Atheer Lens or Studio. They will see this message in the application.
---
Support for deployment in China
With this release, we now have the ability to host workspaces in China region.These workspaces are hosted in completely different domain (e.g., https://>workpace>.atheergo.cn.
Users can access workspaces hosted in China region from Atheer Lens by selecting the region in settings.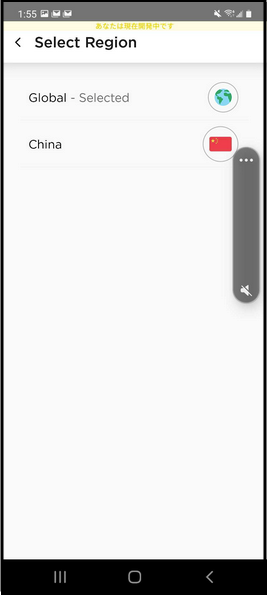 ---
Improvement in Atheer Lens Navigation
Users can now quickly access AiRSession from Lens bottom navigation.
---
Introducing AiRTrust
Atheer now has a Status page (https://status.atheer.io/) where you can get updates on how our systems are doing. If there are interruptions to service, we will post a note here.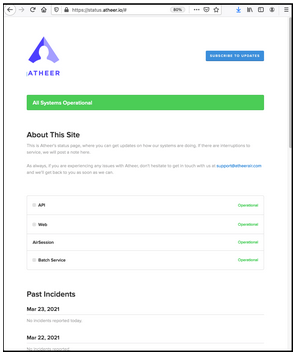 Click the SUBSCRIBE TO UPDATES button to register for notifications from email, Slack, Atom Feed or RSS Feed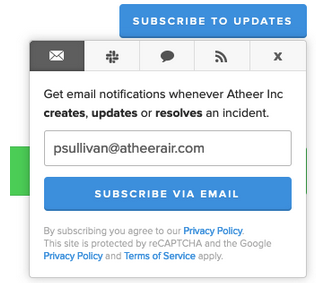 ---
Atheer Lens now supports Google Pixel 5
Users can now use the latest Google Pixel 5. It's fully certified.
---
Atheer Lens now supports Realware Firmware V12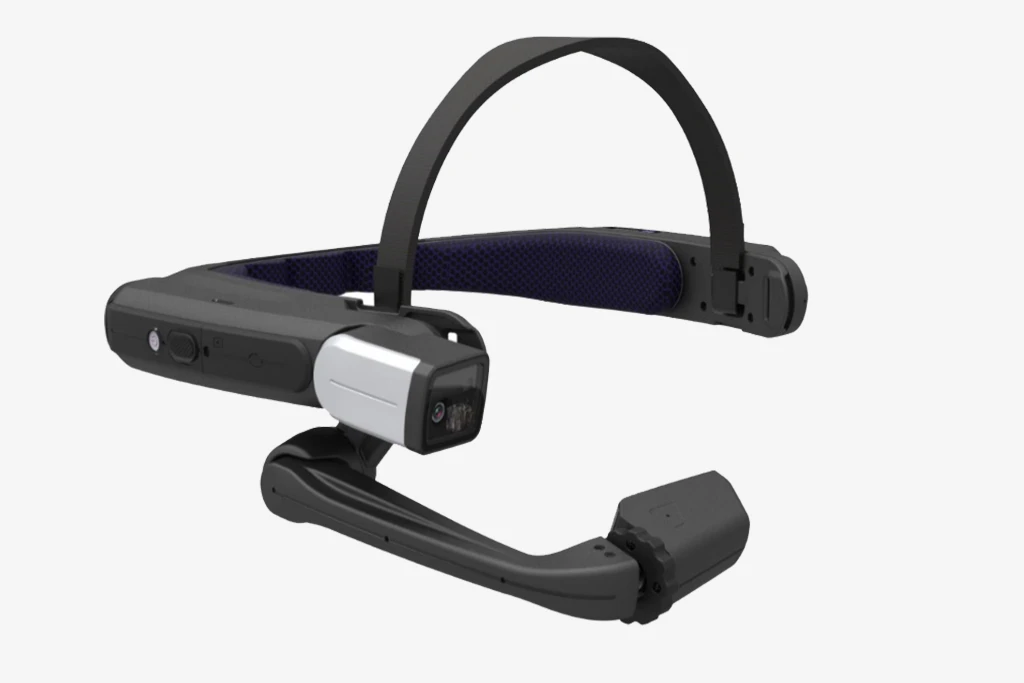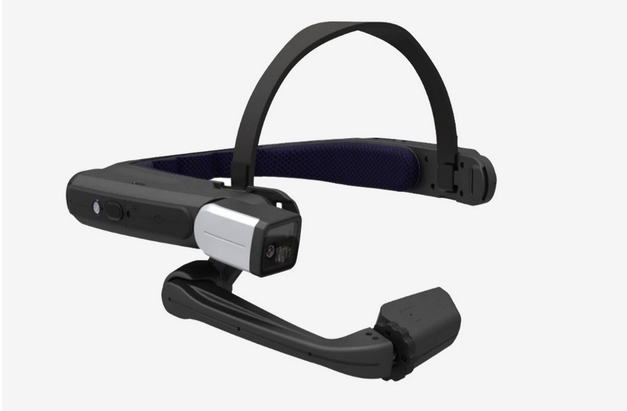 ---
Atheer Lens now supports IOS 12+ devices
In the previous release, we supported IOS 13+ devices. We got a lot of feedback from customers to support IOS 12+ devices.
---
---
SELF-ASSIST ENHANCEMENTS
Users love the idea of getting contextual information in their moment of need in a self-service manner, whether it is finding an instruction manual for a particular model of a vehicle or the inspection procedures for a machine or asset they happen to be in front of. In Atheer Frontline, this is accomplished through Smartscans, a marker-based object recognition system that allows users to scan for a marker through the Lens App and get instant access to the relevant documents, AirForms and Experts.
In the Chinook release of Atheer, we've made it even easier for them to get access to contextual knowledge, training and guidance.
---
Introducing OCR Scan (VIN#, Machine#, Serial #) in SmartScans
Smartscan administrators now have the ability to associate pre-existing asset numbers (examples like VIN#, Machine #, Serial #) to Content, AirForms and Experts (Users). This is made possible by utilizing the ExternalID field of the SmartScan object.
In Atheer Lens, users can select the "Text Scan" mode within the Lens Scan feature.
Once the text scan is initiated, the scan pulls in all visible text in the scan region. Users can edit the strings and confirm. Once confirmed, the system will try to match that text with any existing SmartScan ExternalID and if there is a match and the user has the visibility permissions to access that smartscan, the associated content, AirForms and users will be made available for further actions.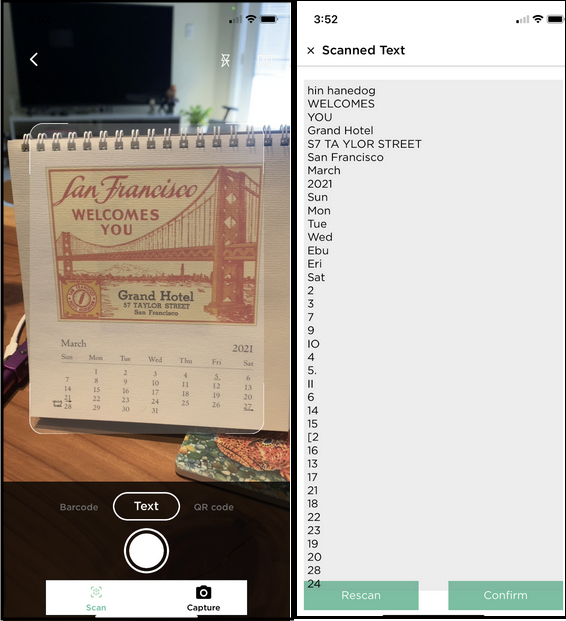 ---
---
REMOTE-ASSIST ENHANCEMENTS

Sometimes front line team members need more help than they can get through self-assistance. The enhancements we've made to our Remote-Assist capabilities in this release are all about providing greater flexibility in how front line team members get remote assistance - and making the Remote-Assist experience both richer and easier to use.
---
Users can now share content from their local drive in Conversations
Atheer Studio: Upload local content during an AiRSession.
During an AiRSession, Atheer Studio users are now able to use the Upload from Local tool in the Conversations window to upload files from their local drives and make them available for everyone in the conversation.
Once the file is uploaded, it appears in the chat window as a downloadable file. The users can click/tap on the file and view it on their device or computer.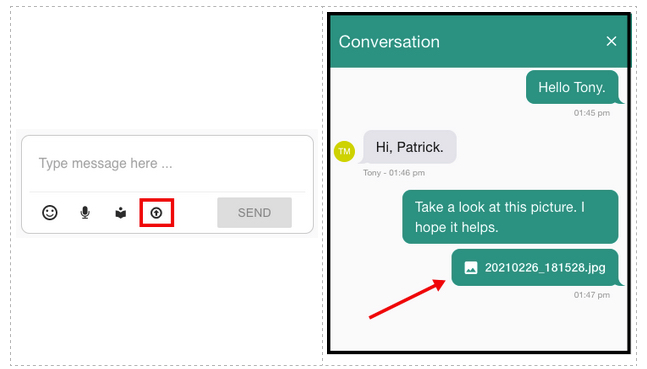 ---
Users can now share a hyperlinked URL in Conversations
Atheer Conversations now support embedded URLs within the conversation. Simply type or paste a URL into the Conversations type field, and the Atheer will process that URL and present it as a hyperlink button with a preview image of the web page to which it links. All users within the Conversation are able to click/tap on the URL button and view the web page on their local computer or device.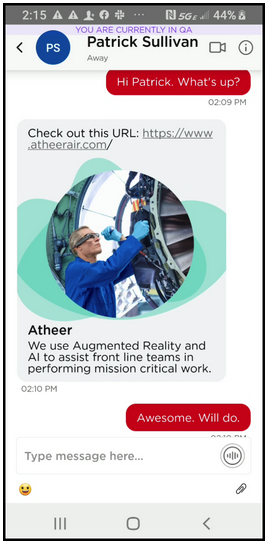 ---
Users now get in-app and push notifications for various interactions in Conversation
In-app and push notifications are now integrated into the various interactions in the Atheer Conversations.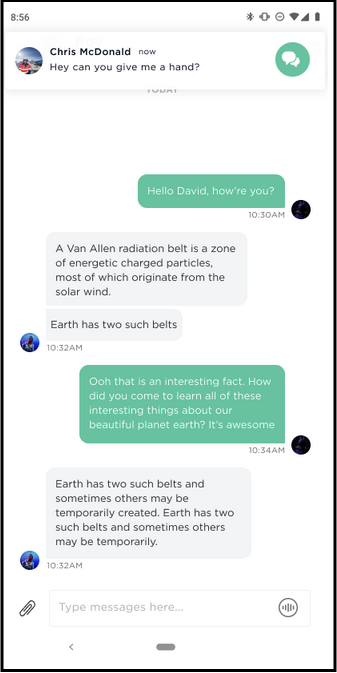 ---
Guest users can now attend AiRSessions on mobile / tablet browsers
Mobile device Guests who are invited to join AiRSessions can now join the AiRSession without having to download the Atheer Lens App.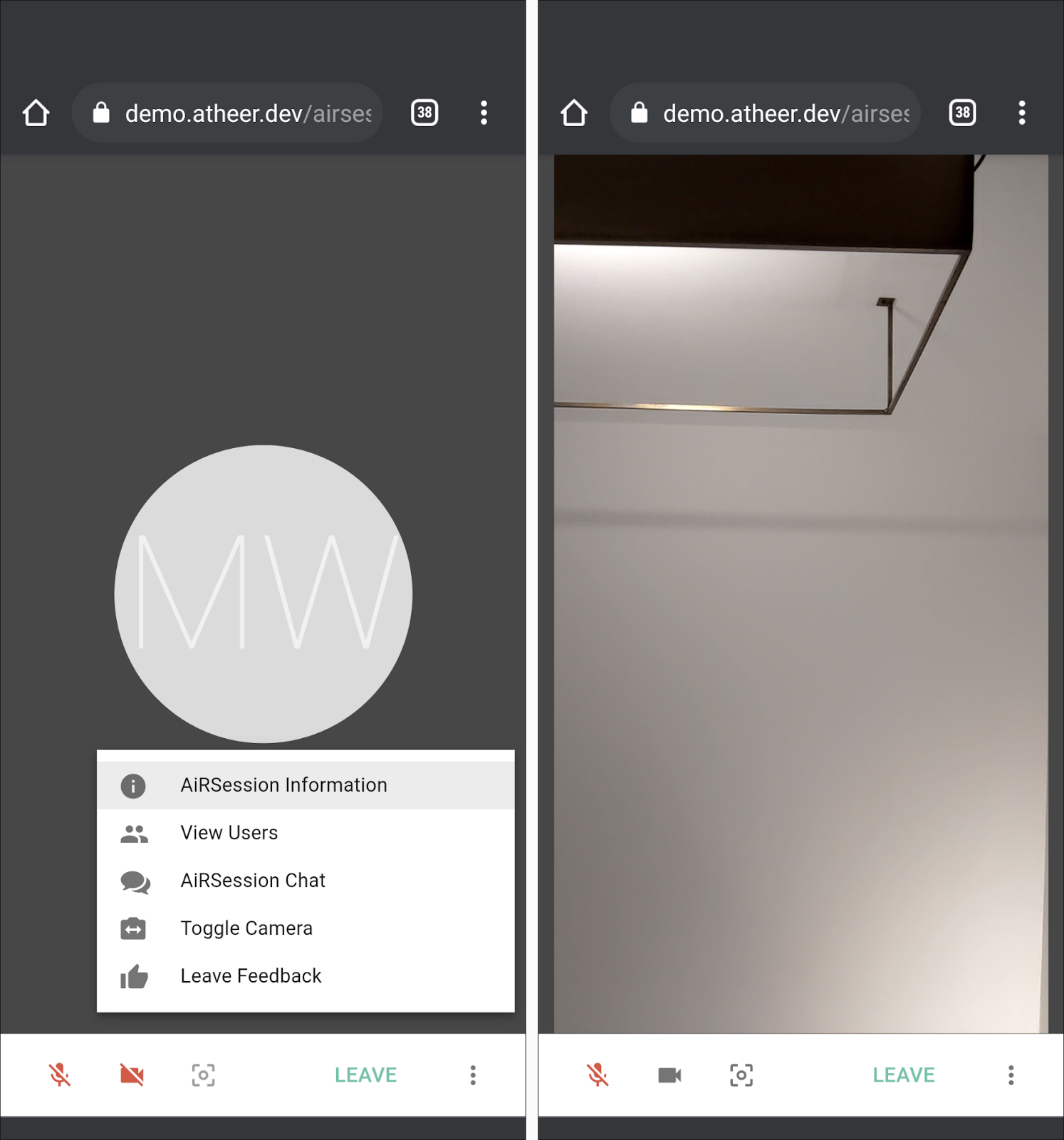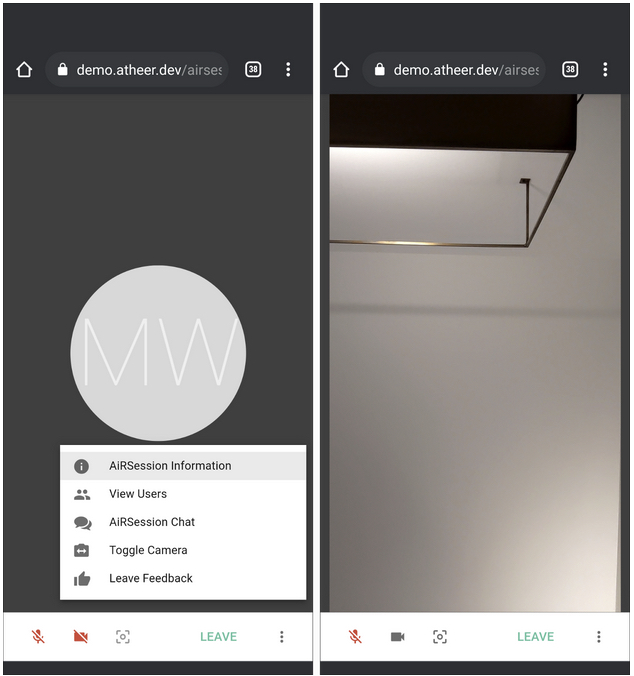 ---
Easily export all AiRSession data in Excel format
If you need all the AiRSession data download from the Atheer system, it's now available at the click of a button.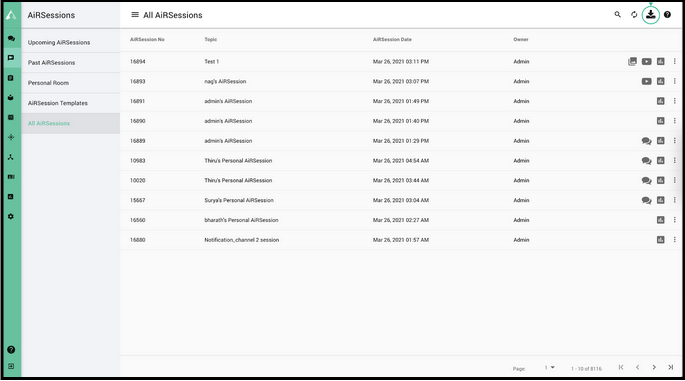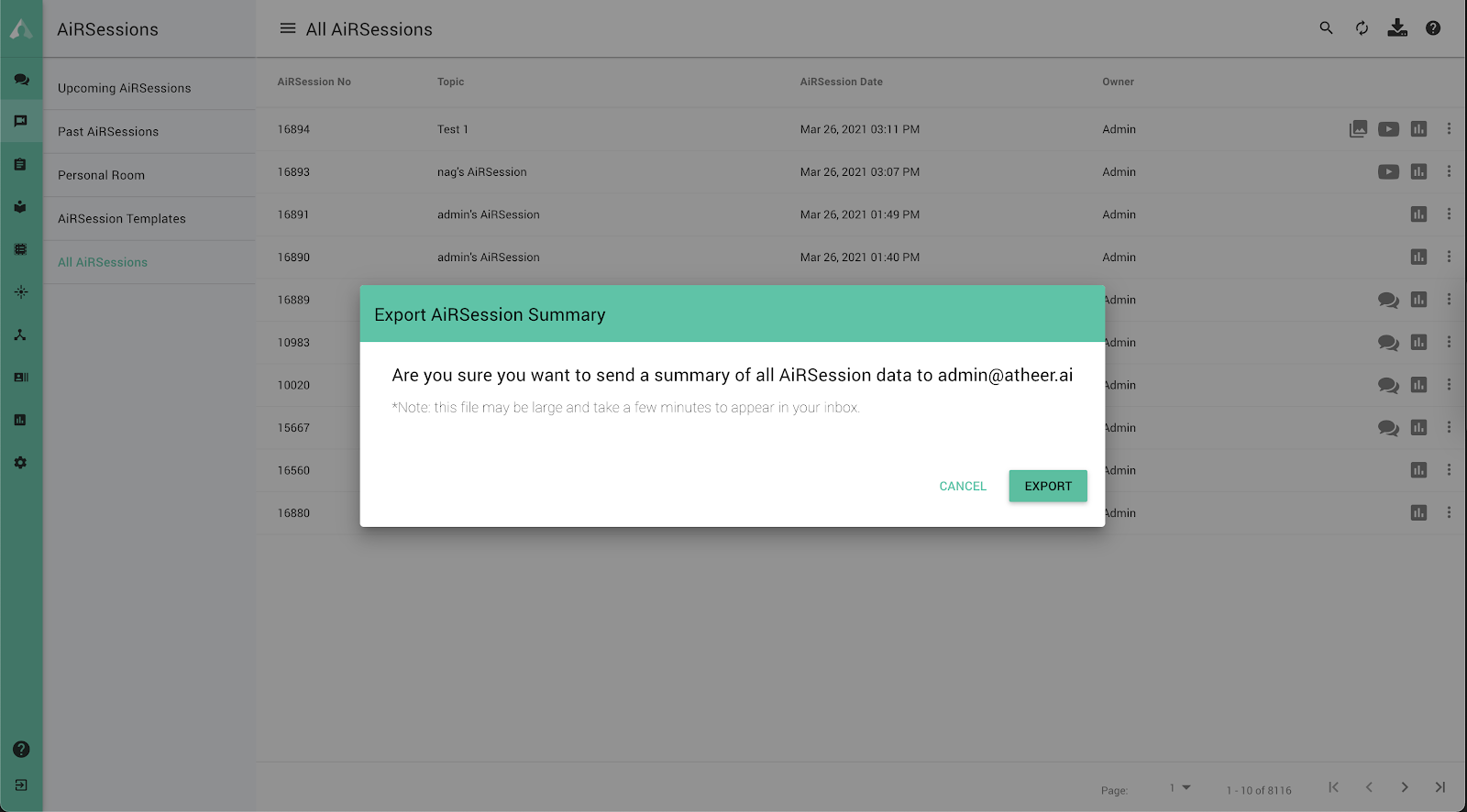 ---
Leave / End Confirmation Consistency Across Mobile, Web, and wearable
The "End" conformation is consistent across the mobile, web, and wearable environments. What's more, now with the wearable devices, if the "End" command is accidentally triggered, you get a conformation to "End" that is easy to cancel.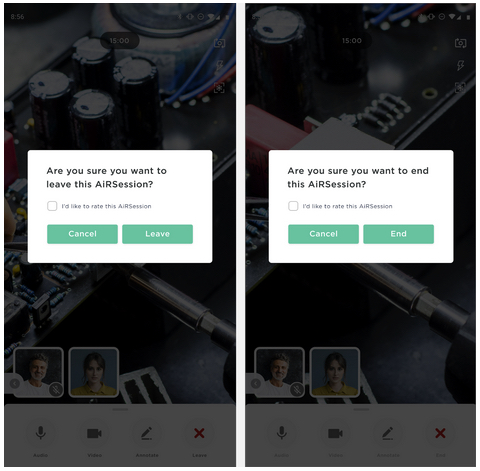 Mobile (Host and user)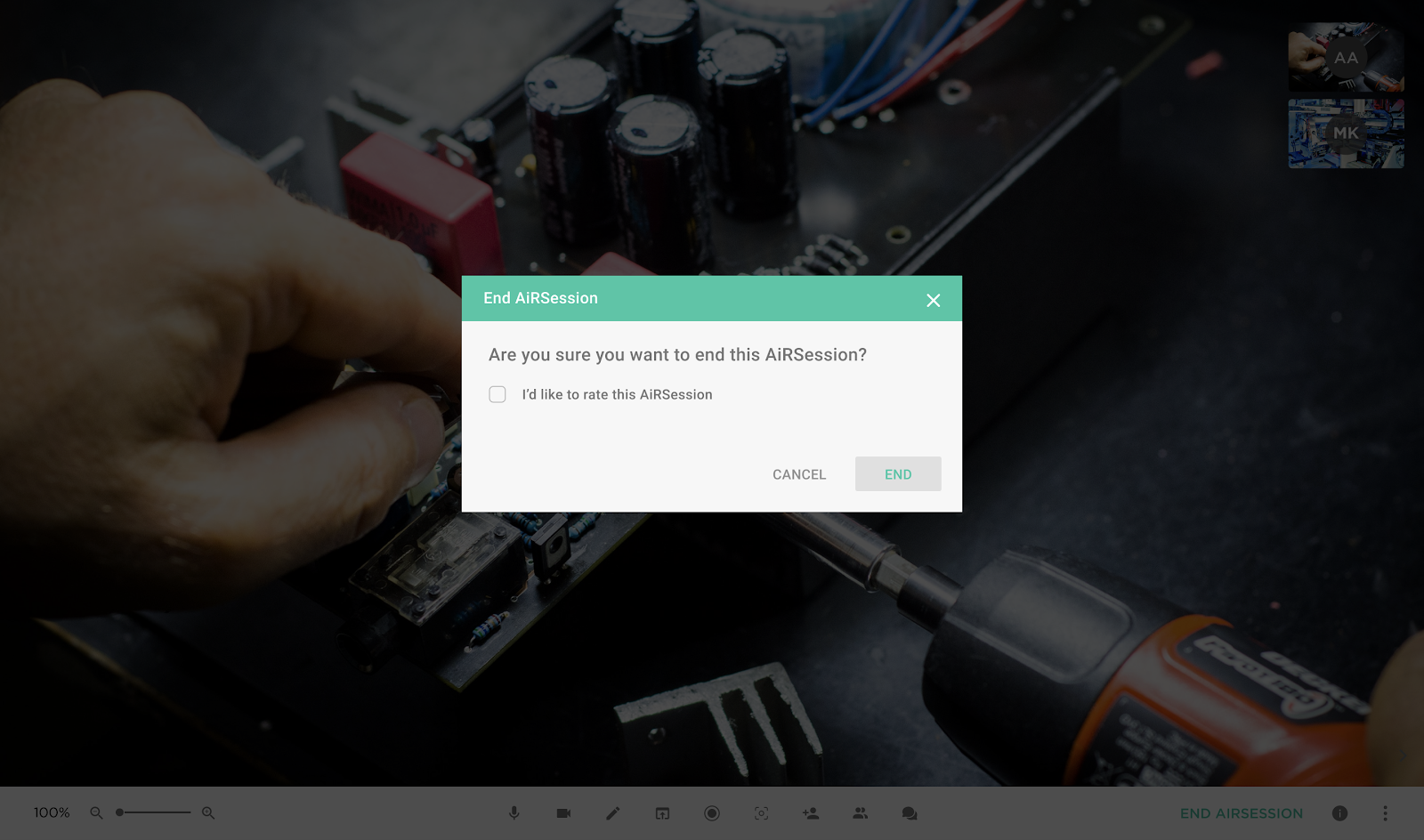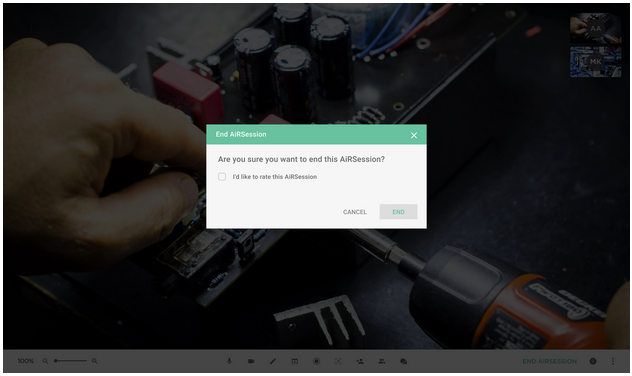 Web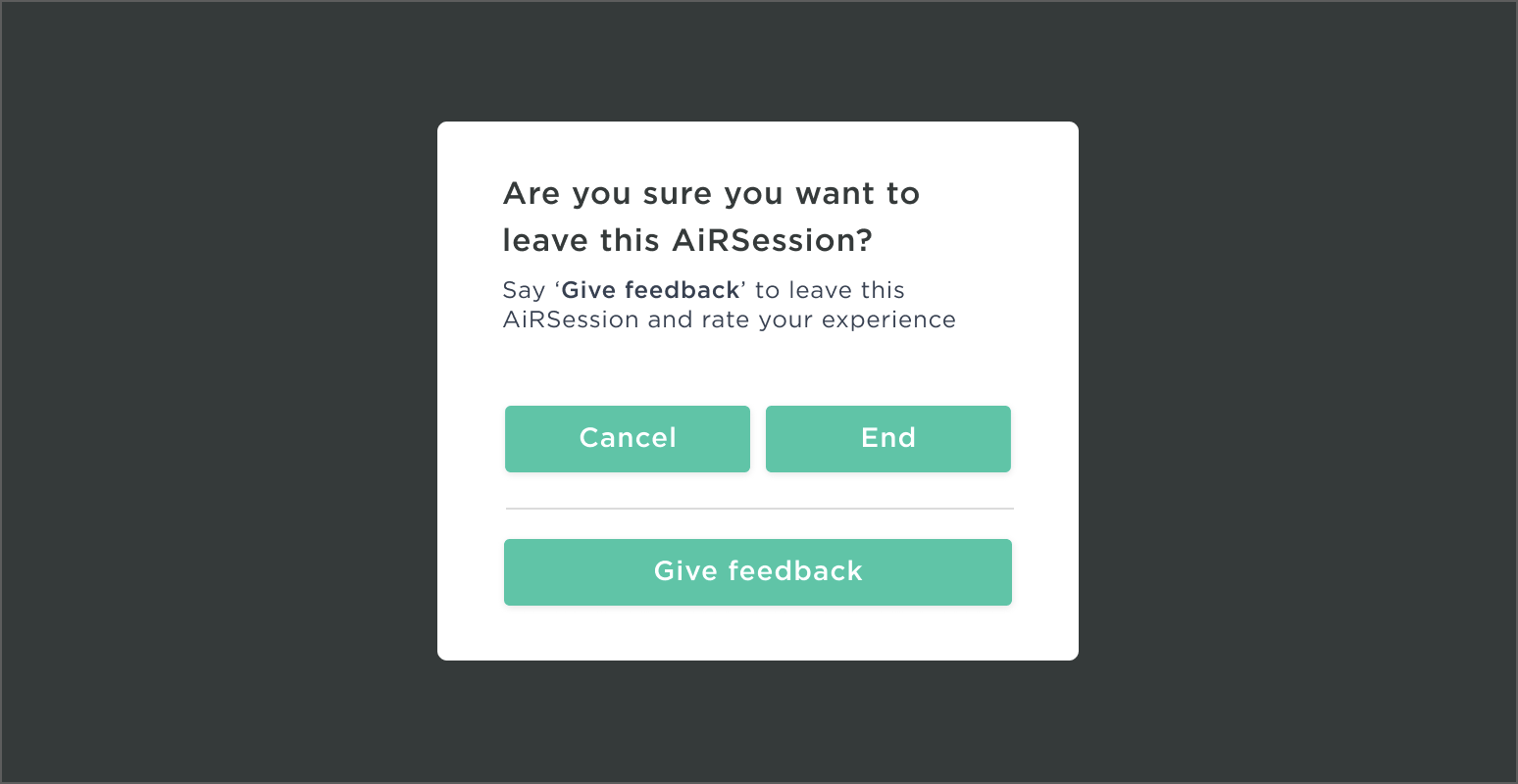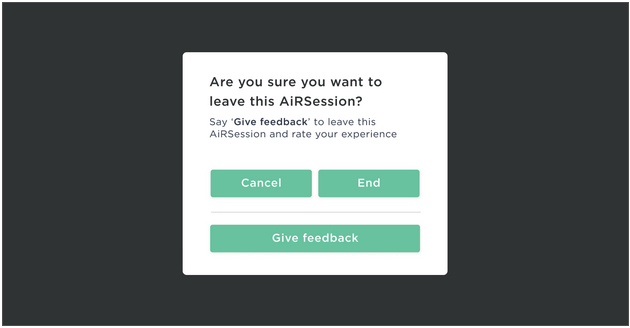 RealWear
---
Users can easily access AiRSession recording from email
At the end of an AiRSession that has been recorded, an email notification will now be sent out to all attendees with a VIEW RECORDING button that executes a hyperlink to the web-based recording. This gives all users the ability to immediately review the recording.
Note: Users without email addresses associated with their accounts will not be able to receive these email notifications.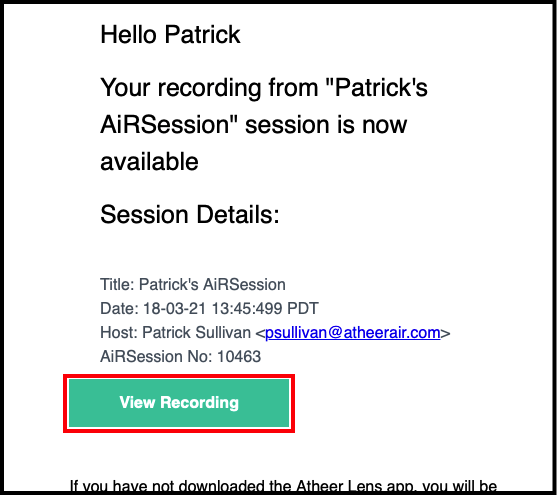 ---
AiRSession, Home, Conversations and Settings UX Improvements
Many AiRSession, Home, Conversations, and Setting UX improvements have been implemented in the Atheer Chinook Release.



---
Color picker menu automatically dismisses after color selection
The Color Selection tool automatically dismisses the color selection after a color is chosen.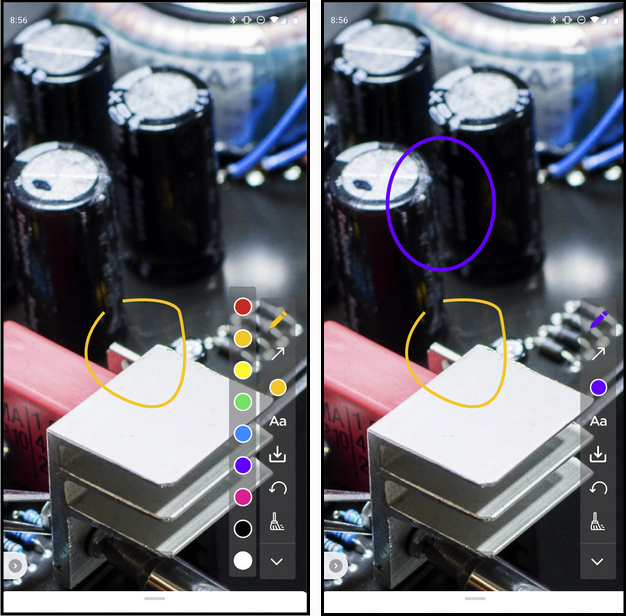 ---
---
WORKFLOW-ASSIST ENHANCEMENTS
Having obtained whatever self assistance and remote assistance front line teams need, Atheer supports them in working through their jobs with Workflow-Assist capabilities. Atheer is a no-code platform, meaning that it allows teams to model and digitize business processes.
The Chinook release of Atheer allows teams to do more than ever before - including being able to scope specific steps in an AiRForm for specific roles and automatically create Jobs based on a scheduler.


---
Introducing collaborative job execution
Overview
Atheer now supports "role based scope" on the steps in the AiRForm. This will enable collaborative Job execution. For example -
Line changeover job, where the first set of steps are to be completed by an operator and the next set of steps are completed by a quality inspector
For a hazardous job, the operator confirms that she has completed all the required training and certifications, then the supervisor can either sign off, post which the operator can start on the job or the supervisor can reject and abort the job.
Authoring
In the AiRForm authoring Studio, for every step in an AiRForm a role can be specified. The roles will be restrictive and only users with those roles will be allowed to complete those steps.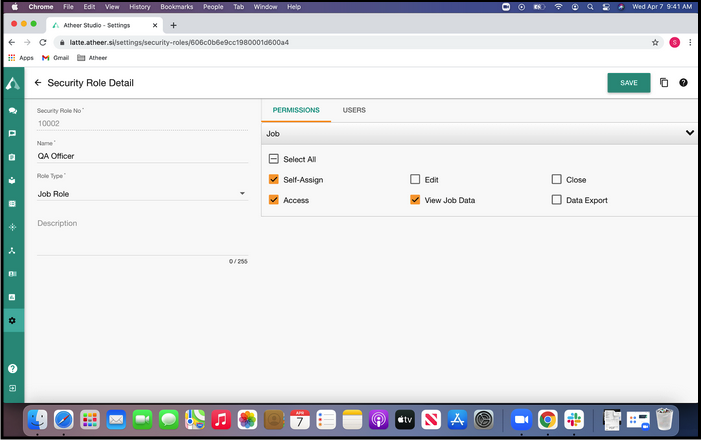 ---
Job Creation and execution
In the Job create experience, one or more assignees can be specified for each of the different roles on the AiRForm.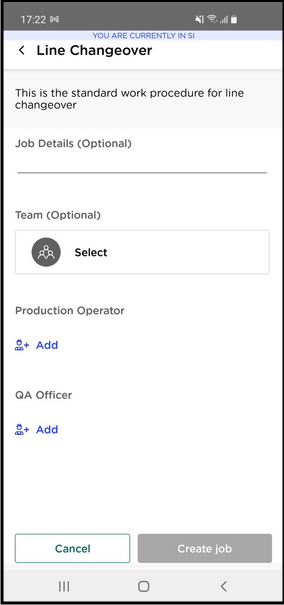 Handoff
An explicit "handoff" step can be used for smooth handoff to the next assignee and also to send a notification to her.


---
Introducing Smart Alerts
Smart Alerts allows you to define smart alerts / notifications within the AiRForm itself. For example in case of safety or quality deviations, define who needs to be notified and how (email / push notification). In case a safety or quality deviation occurs during the Job, an alert will be sent in real time to all the concerned parties. Additionally we support customization in the notification text and content, which can be specified in the notification template.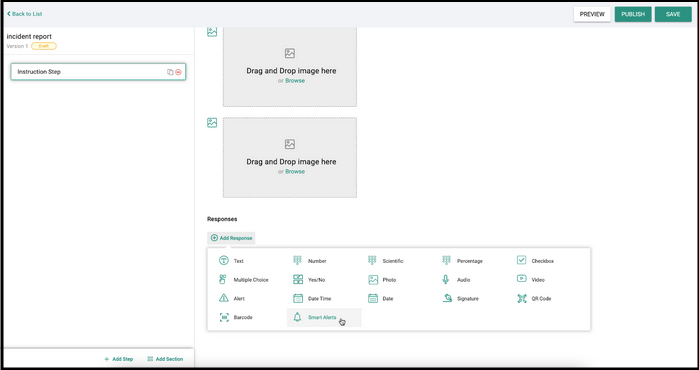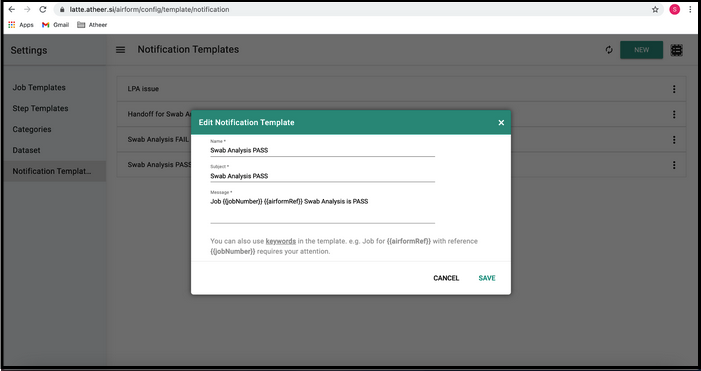 ---
Easily access step-by-step job progress in Atheer Lens
The Lens app now supports navigation and review of all completed steps in a Job from the Table of Contents. Simply scroll to the step to be reviewed from the TOC and click on the completed step to review the same. The step can also be opened for edit if required.
A manager or supervisor can review the progress of an incomplete or in progress Job from the app, using "View Progress". View Progress gives all details of the steps such as who completed it, when and responses. View Progress can also be restricted to selected users using the role permissions.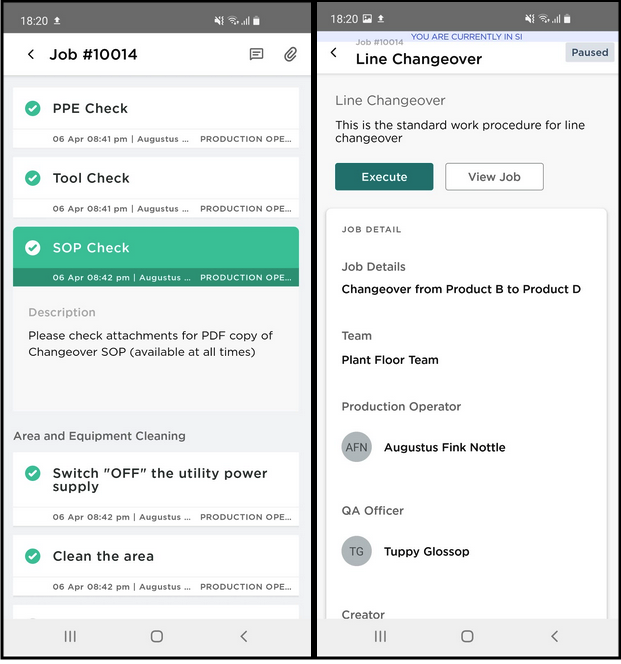 ---
Users can now execute jobs in Atheer Studio
In addition to Job creation and management, Atheer now supports Job execution on the web as well. Job execution on the web has all the features and functionality as that of the app except for features that are dependent on the camera.
---
Grouped Job Boards on the Atheer Lens
Grouping on Job boards functionality is extended to Lens job boards in addition to the Web job boards.


---
Control access to Job boards through audience
Job Board access can be restricted to specific users by specifying an audience on the Job Board. In case a Job Board access is not to be restricted, it can be made available to "Everyone"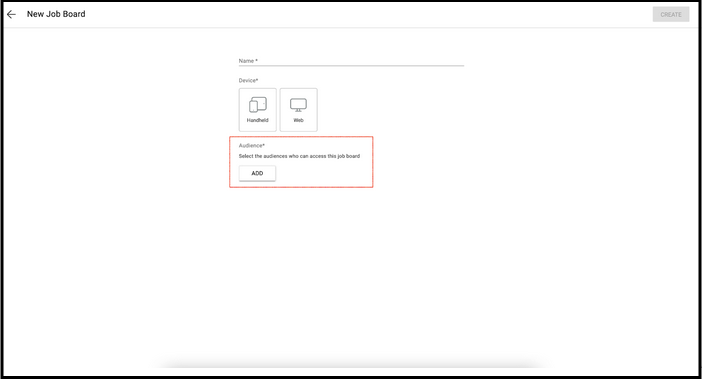 ---
Automatic Job scheduling using SmartFlows
We have added Scheduler support for File based Lite Integration with Upstream systems. This will enable automatic creation of Jobs following a schedule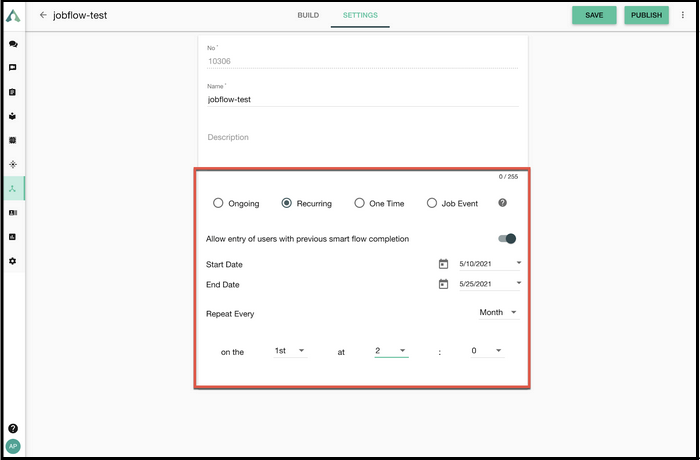 ---
Label support in job data seed in Smartflow
SmartFlows support automation label based data seed during Job Creation. For every response with the applicable automation label, the specified data will be pre-filled during Job Creation


---
Please feel free to reach out to our customer success team for additional information.
---